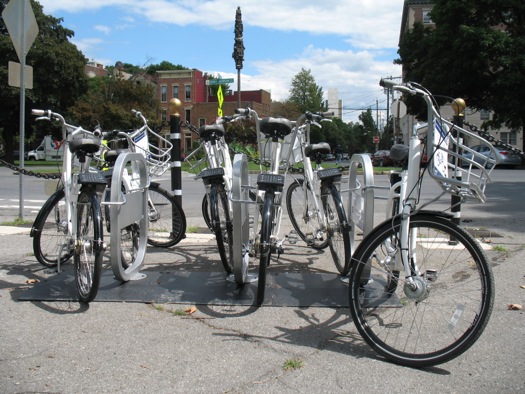 The Capital Region Bikeshare pilot is finishing up this week in Albany after week-long stints in Schenectady, Troy, and Saratoga Springs. The test run finishes up this Saturday, August 16.
We were curious about the program, so on Thursday we registered and took one of the bikes for a spin. Here are a few thoughts about the program, and about cycling in Albany generally...
The bikeshare
The Albany week of the bikeshare pilot included 25 bikes spread between hubs in Tricentennial Park downtown (across from Kiernan Plaza on Broadway), in Washington Park near Willett and Hudson, and at bike racks along Lark Street.
The sign-up process was relatively easy, if not necessarily super clear from the website. You had to go to the hub downtown to sign up in person at the table there. And as we found out then, the preregistration we had completed online ahead of time was apparently not any sort of registration. But it was easy to fill out the forms on a tiny laptop at the table, and the person working there was helpful. A few bits of information, a credit number (the bikeshare pilot is free, the card number is for security for the bike), and quick demo of the on-bike locking mechanism and we were ready to go.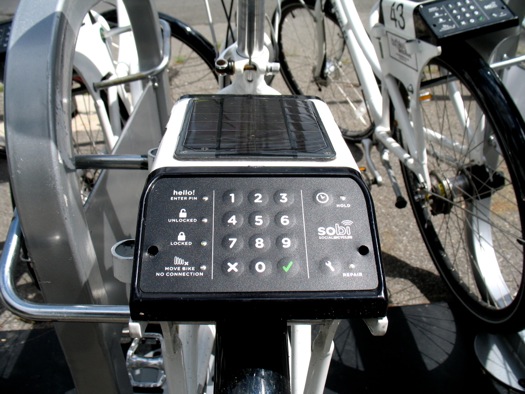 The bikeshare -- which is drawing on the expertise and equipment of the Buffalo BikeShare -- is using a system called SocialBicycles, and the on-bike lock is straightforward. You just punch in your registration number, then enter a PIN, and the bike unlocks. It worked for us with no trouble on the first try.
Because the locking system is on board, the bike can be locked at places other than a hub -- either for someone else to pick up, or you can tell the lock to "hold" the bike for you. So you could, say, bike somewhere to have lunch and the bike would still be there for you when you finished eating.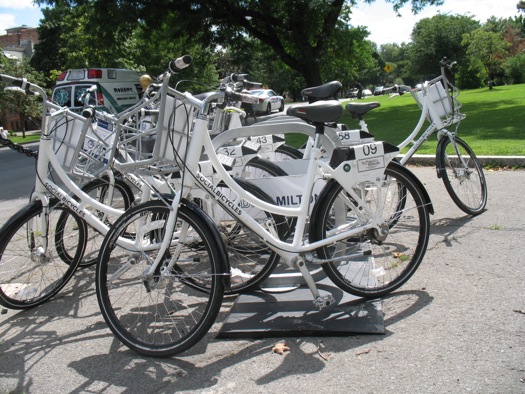 The bikes are nice enough, more along the lines of a cruiser bike than a road bike. They have three gears, drum brakes, an adjustable seat, and a little basket in the front. If we had any complaints: the bike felt heavy, and the pedals seemed a little small.
We picked up the bike we tried at the Washington Park hub and cruised around the park. It had been a while since we'd been out on a bike -- and it's fun to ride a bike! There's something civilized about gliding through the park on a bike. (Not as fun: lugging our out-of-shape butt and the not-so-light bike up the hills.)
As fun as it was to bike around the park, we wonder about how useful a system like this would be. We're guessing hubs would have to be spread out in different parts of the city to make the bikes useful as any sort of real transportation alternative. And would someone who's only a casual bike rider be up for riding a bike from, say, an uptown location like Western and Madison to some location downtown? That would involve riding on some busy streets. And the return trip would be a bit of a slog uphill, especially for someone who doesn't bike often. (And if you do bike often, you probably have your own bike.) And will people pay for that? (The bikeshare pilot in the Capital Region was free.)
It'll be interesting to see what sort of conclusions the Capital District Transportation Committee is able to draw from the data and experience collected during the pilot program. A week in each city seems like a short span in which to pick up any sort of signal or pattern.
About biking generally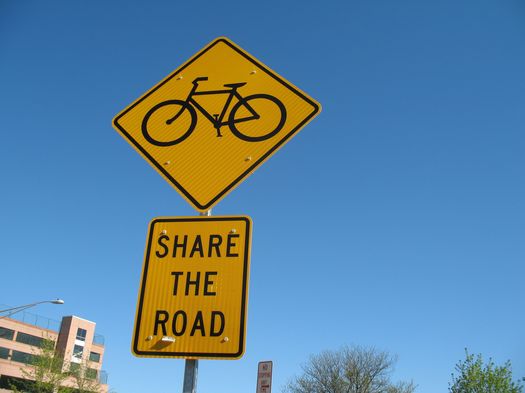 Taking the bikeshare bike out for a spin got us thinking about biking around Albany -- and the Capital Region -- in general.
There are a lot of reasons to hope for a more bike-able Capital Region. Cycling is good for the environment, good for health, can potentially cut down on traffic congestion -- and it's fun! Yet very few people ride a bike to work in the Capital Region -- just .3 percent, according to the Census Bureau. And the place with the highest percentage -- Albany -- is at just .9 percent.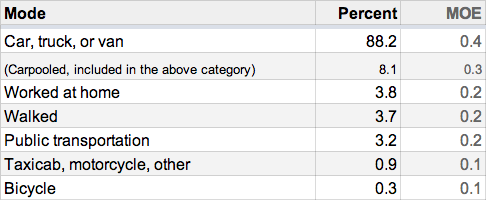 So maybe something like a Capital Region bikeshare is step in the right direction. But it's only going to be part of that process, and at this point, probably only a small part. Because there's so much more that could and should be done to get the Capital Region moving toward having a more robust bike culture.
Probably the best step to be taken is bike infrastructure. Something we hear informally from people frequently is that they're interested in riding a bike more -- it's just that the idea of doing so on many of the area's major streets freaks them out. And that's totally understandable given the traffic flows, the lack of real bike lanes (sorry, sharrows don't count), and the way drivers often act toward cyclists. But infrastructure takes planning, money, and space.
Are local municipalities willing to put up that effort? One potential example: Albany has been tumbling this idea of a "road diet" for Madison Ave -- basically reducing the number of lanes with the hope of making traffic calmer and more pedestrian and bike friendly. It's an interesting idea. It'd be an even more interesting idea if a protected bike lane ends up being part of any final plan. Having a long uptown/downtown corridor that would be safer -- and feel safer -- for cyclists could have a big effect on people making the decision about whether to incorporate cycling into their regular transportation options.
There are no doubt other examples of corridors in Albany and other areas of the Capital Region that could also be candidates for such lanes. It will just take the attention of elected leaders and, yep, money to make it happen. Those things can be hard to gather and focus.
But even infrastructure is just a part of the overall picture. Other important parts include:
+ Getting drivers to be better at sharing the road with cyclists and pedestrians.
+ Finding ways to help people become more confident cyclists.
+ Raising awareness that cycling can be useful and fun.
+ And maybe even making cycling a political act in some sense. We read something interesting recently about how people in Copenhagen -- one of the great bike culture capitals of the world -- made cycling a political issue during the 1970s, and that's credited with helping to push the Danish city toward its current bike-friendly state. Local elections are often decided by such small turnouts, an organized bloc of even a few hundred cyclist and pedestrian-focused people might be able to generate not-insignificant attention of local officials.
The Capital Region isn't starting from scratch. There are orgs like the Albany Bicycle Coalition. Places like the Troy Bike Rescue and the Albany Bike Rescue are helping people recycle bikes, and importantly, teaching them skills to maintain bikes. And there are people like Randal, who are banging the drum for awareness and respect. And people like Ethan who are helping people see cycling as something that can be fun and social (the old-school, face-to-face social).
And there are people riding bikes -- we see them every day. But we bet there could be more of them.
Later on AOA: A bit more about protected bike lanes in Albany
Say Something!
We'd really like you to take part in the conversation here at All Over Albany. But we do have a few rules here. Don't worry, they're easy. The first: be kind. The second: treat everyone else with the same respect you'd like to see in return. Cool? Great, post away. Comments are moderated so it might take a little while for your comment to show up. Thanks for being patient.