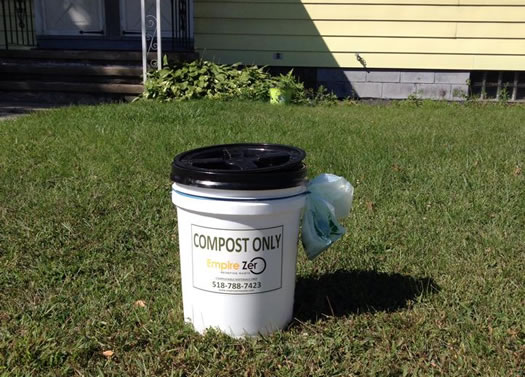 By Lauren Hittinger
Composting might sound a little odd -- separating stuff like food scraps from your trash so it can be decomposed -- but think of it this way: Composting is like recycling, but for organic trash. And just like a used bottle can be recycled into something different, your leftovers from dinner can also be transformed into something new and productive.
Here's a quick look at four local services that are aiming to make composting a regular household practice, and help you do the environment a favor.
Composting 101
At its most basic level, compost is just organic* matter that decomposes to form nutrient-rich fertilizer. There are different techniques to help speed the decomposition along, and the type of process can affect what sorts of items can be included. But generally you can compost fruit and vegetable waste, along with things like eggshells, coffee grounds, and some paper products. Some composting processes can also handle meat and dairy waste.
(*Organic as in plant or animal matter, not as in organic farming.)
Why compost?
Food waste makes up a big chunk of the stuff that gets added to landfills each year. So composting your organic matter has a number of positive side effects.
Of course, the first is that it eases the burden on landfill space. But composting also reduces greenhouse gas emissions because organic matter in landfills decomposes in such a way that it creates methane, a potent greenhouse gas.
Composting also creates something useful out of your garbage, since the material is converted back into valuable fertilizer. And if you compost, your trash is less likely to stink.
You can compost in your backyard. But if you'd rather not, there are four local services making it easy.
Composting services
Empire Zero -
Where? Pickups throughout the City of Albany, Albany County, Rensselaer County, and parts of Schenectady County
How much? Service fees are based upon how frequently you want pickup and how much waste you're composting. The lowest amount starts at $10/month for pickup every-other-week, plus $4.50 for the first 5-gallon bucket
Details: Empire Zero has programs for both residential and commercial waste (they work with supermarkets and other institutional clients) and is growing their services in both arenas. I was most impressed by their pickup area, since it spreads across nearly the entire Capital District.
Presently their composting material is delivered to other facilities for decay, like the Schenectady County Compost Facility and a nursery in Ghent. Since they take their materials to larger operations, Empire Zero accepts meat, bones, and dairy in their composting bins. Customers just leave their sealed bin on the curb alongside other trash and Empire Zero comes by to pick it up.
Earlier this year Empire Zero had a pilot program that was offering finished compost for sale. The program recently ended, but the company is hoping to start it up again next year.
Radix Center -
Where? Pickup in the City of Albany
How much? $15 per month for one weekly pickup of one container
Details: One of the Radix Center's many initiatives is composting. Radix takes all scraps back to their location on Grand Street for composting. The resulting soil is then recycled into their gardening and food growing demonstrations.
Environmentally minded individuals should also check out the Radix Center's other sustainability training programs and workshops.
Troy Compost
Where? Drop-off at the Troy Farmer's Market
How much? By donation
Details: For those looking to try out composting and don't mind carrying around food waste, Troy Compost collects food scraps every Saturday at the Troy Waterfront Farmers' Market. Since the material ultimately goes to Empire Zero, you can bring all food scraps, including meat and dairy. Troy Compost also hosts some educational resources to promote composting in general and is looking to establish neighborhood composting sites.
Evolv Composting
Where? Pick up in Saratoga, Albany, Washington, and Schenectady Counties
How much? $20/month
Details: Evolv Composting uses a different system than the other companies, called bokashi, which involves adding a bit of special wheat bran to jumpstart the composting process, which makes use of anaerobic fermentation. It's said to faster and practically odor-free.
Evolv is one of the newest businesses to enter the Capital Region composting scene -- it was founded in January 2014. While you can send your composted waste back to Evolv, customers are encouraged to use what they can in their own gardens.
____
Lauren writes about shopping, crafting, and living well on a small budget at The Thrifty Ginger.
Earlier on AOA: Worms under the sink (2009)
photo courtesy of Empire Zero
Hi there. Comments have been closed for this item. Still have something to say? Contact us.