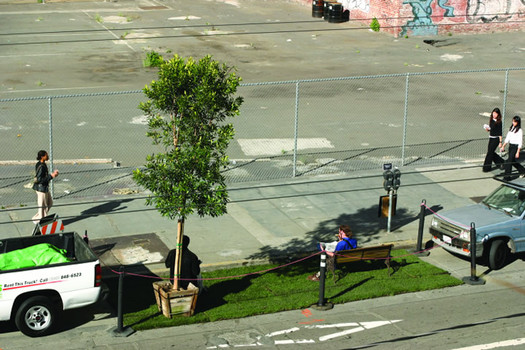 What could a parking space be if it wasn't a parking space?
That's one of the questions posted by Park(ing) Day, an event that will temporarily repurpose parking spaces in cities around the world on September 19. One of those cities is Albany.
Park(ing) Day blurbage:
PARK(ing) Day is a annual open-source global event where citizens, artists and activists collaborate to temporarily transform metered parking spaces into "PARK(ing)" spaces: temporary public places. The project began in 2005 when Rebar, a San Francisco art and design studio, converted a single metered parking space into a temporary public park in downtown San Francisco. Since 2005, PARK(ing) Day has evolved into a global movement, with organizations and individuals (operating independently of Rebar but following an established set of guidelines) creating new forms of temporary public space in urban contexts around the world.
The mission of PARK(ing) Day is to call attention to the need for more urban open space, to generate critical debate around how public space is created and allocated, and to improve the quality of urban human habitat ... at least until the meter runs out!
The city of Albany is making spaces available at spots around the city from 11 am-4 pm on September 19. If you'd like to take over a space, contact Mary Millus in the city's Department of Development and Planning: millusm@ci.albany.ny.us. The deadline is September 15 (here's a pdf of the application).
One example of what people have planned: The Graduate Planning Student Association at UAlbany is working to cobble together enough spaces to create a pop-up protected bike lane on Madison Ave along Washington Park. If you'd like to help them do that, we get the feeling they'd be happy to hear from you (there's contact info at that link above).
Hi there. Comments have been closed for this item. Still have something to say? Contact us.