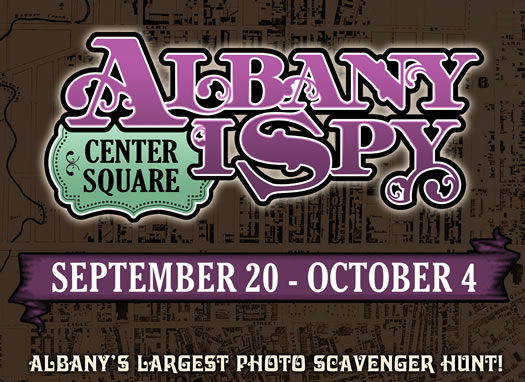 It lives: The Albany I Spy scavenger hunt from Albany Archives and the Albany County Convention & Visitors Bureau is returning for a second year, and this time around it's focused on the Center Square neighborhood. How it works:
Step 1: Download the form here on September 20
This is your Master Albany I Spy Clue Sheet. Sounds important, right? It is! Be sure to write your name and contact information where indicated because this is how we will contact the winners.
Step 2: Set your course
You'll use the clues on this form to identify the mystery landmarks. Then, set your course each day - or wait for one spectacular day - to head to Center Square to spy and write the name of the landmark on your Master Clue Sheet.
Step 3: Get extra clues
Stumped? Don't worry, we're here to help! Each day, we'll be posting a special extra clue on our social media sites: Albany Archives, Discover Albany, and All Over Albany, or search using the hashtag: #albanyispy.
The deadline to submit your answers is October 4 (see the details at that link). That same day there will be get-together at the Center Square Pub at whic the winners will be announced and prizes (many of which are gift certificates to downtown Albany businesses) will be handed out.
Last year's contest drew a good crowd and people seemed to have a lot of fun at the meetup.
Yep, AOA is a media sponsor of the hunt.
Hi there. Comments have been closed for this item. Still have something to say? Contact us.