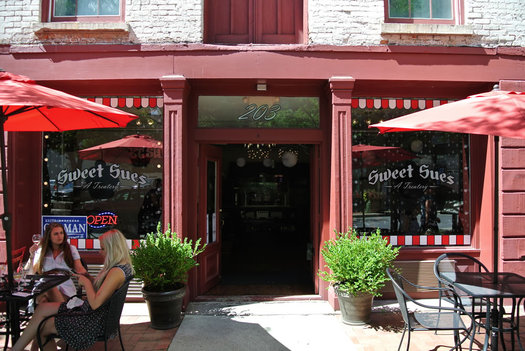 By Deanna Fox
If you shouldn't judge a book by its cover, neither should you judge a restaurant by the sign in the window.
Sweet Sue's on River Street in Troy has mastered all things sweet and sugary, but savory hasn't been forgotten. From weekend brunch to mostly-from-scratch lunch sandwiches, this "treatery" ignites all five tastes (sweet, salty, sour, bitter, umami), and bridges the sweet-savory divide in ways missing from many other eateries.
At Sweet Sue's for lunch you can have your cake (and eat it, too) -- and not neglect your more substantial savory cravings.
It isn't hard to overlook non-dessert options at Sweet Sue's. The red and white details of the shop's façade are reminiscent of candy canes, and a quick peek in the windows reveals a display case full of cupcakes, cookies, and other confections. Apothecary jars of malted milk balls in various flavors line shelving near the kitchen. A lovely blonde woman stands in full view tempering chocolate and hand-rolling truffles in quick repetition.

But it's what happens behind the scenes that makes Sweet Sue's truly exemplary.

In the wee hours while we are likely sleeping, Susan Dunckel (the Sue in Sweet Sue's) touches base with her purveyors and vendors, sourcing the local meats, vegetables, fruits, and dairy to go into each creation. The lunch and brunch menus are seasonally driven, and while there are a few mainstays, you are more likely to find an item that will only be available for a few weeks of the year and then be retired until ingredients come back into season.

For many quick-stop eateries, this method could drive customers away. At Sweet Sue's, it keeps things fresh and the clientele coming back for more. It isn't uncommon to see a group or regulars come in weekly (or daily in many cases) and exchange family news or quick hugs with Dunckel. Because the shop is small (though always busy), Dunckel is able to tweak a menu item to fit the customer's palate.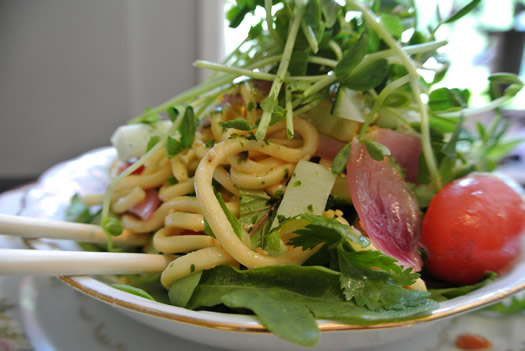 On my last visit to Sweet Sue's, I enjoyed a smattering of sweet and savory lunchtime fare. The Asian noodle salad ($7) is a vegan delight piled high with rice noodles, and seasonal herbs, sprouts, and vegetables that taste as though Dunckel herself plucked them from the garden that morning. It would be a generous side portion to split between two (or more) people if looking for a heartier midday meal.

The Sooie ($8.95) is a fun play on words that highlights hormone-free house-made pork confit, layered with briny slaw, the zing of pickled onions, a horseradish cream that expertly pairs sweet local dairy with intensely flavored horseradish, and chewy ciabatta.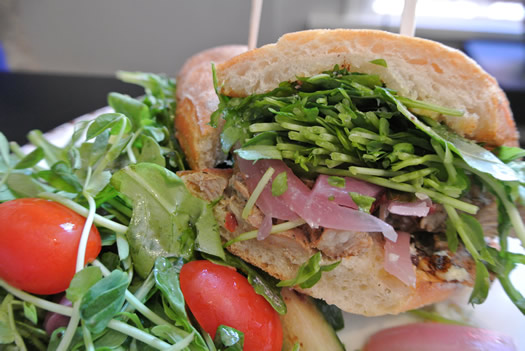 The Sweet Sue ($8) utilizes the concept of brie en croute. Croissant from Our Daily Bread is slightly toasted, the layered with melty brie cheese, poached pears, house made fig jam, and candied pecans. Like with most sandwich options, the Sweet Sue and the Sooie come paired with a fresh greens salad, which is subject to change to a more composed option as the seasons dictate.


Dunckel finds most of her products through her connections and presence at the Troy Waterfront Farmers' Market, at which people can still buy one of Sweet Sue's treats. (And in that way buying from Sweet Sue's supports many local businesses, not just that of Dunckel.)

The concept of community is one that permeates at Sweet Sue's. Troy community leaders and business neighbors frequent the treatery (as Dunckel calls it) often, and Dunckel is the braintrust behind the forthcoming Queen Mab's Enchanted City street fair in downtown Troy on October 4. Dunckel's goal in organizing the event is to promote other downtown businesses from a new angle.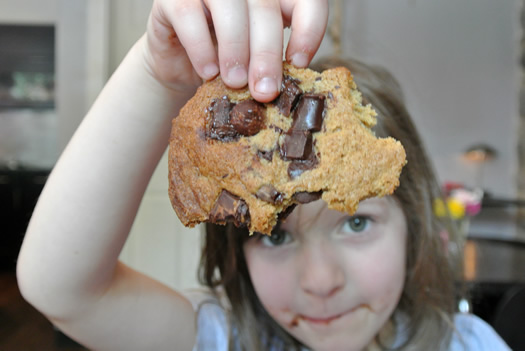 For me, no meal is complete without something a little sweet. On this visit, that took the form of a chocolate ganache-topped cupcake ($3) and enormous chocolate chip cookies ($1) that my daughter, a connoisseur of all things cookie, rated as 100 on a one-to-ten scale.
The dessert case is brimming with coconut macaroons, cookies and cupcakes of many different flavors, and specialty truffles (spicy goat cheese, anyone?) and mousses.

If you plan on trying out Sweet Sue's, be sure to get there early. Limited business hours do not prevent frequent sell-outs of Dunckel's most popular items. Nearly everything is made from scratch based on what is available locally that day, and when it's gone, it's gone. The shop will close early if the day's selection is bought-out.

Deanna Fox writes about many things, mostly about food. More can be found on her website, Twitter, or Instagram.
AOA is a media sponsor of the Queen Mab's Enchanted City street fair.

Find It
Sweet Sue's
203 River Street
Troy, 12180
Hi there. Comments have been closed for this item. Still have something to say? Contact us.