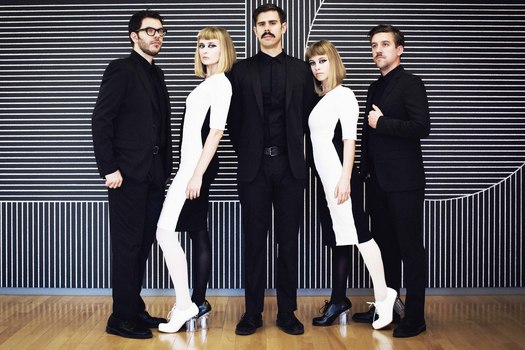 Could be fun: Indie pop group Lucius will be at The Hollow December 5. Tickets are now sale -- they're $16 ahead / $18 day of.
From a Guardian mini profile earlier this year:
Lucius are an intriguing proposition, to be sure. They're fronted by identikit women in matching outfits who sing in unison but aren't twins, and backed by a trio of moustachioed males. Their music is exuberant, relentlessly melodic, epic country-pop, and they're fashion-mag stylish (all their own work) with a dash of wacky. They're surfing a tidal wave of Haim-like press in the States, but they might be a slower-build affair over here, more reminiscent perhaps of the way Arcade Fire crept up on people as Funeral slowly but surely sunk in. In fact, they're mooted to be touring with Arcade Fire and they describe themselves as "energetic, indie pop, rock... the B52s meets Arcade Fire" although we'd say they're more Arcade Haim with maybe some of B52s' zany modishness as regards their image.
The opener for the show at The Hollow is Bahamas (which is one guy from Canada).
photo: Peter Larson
Hi there. Comments have been closed for this item. Still have something to say? Contact us.