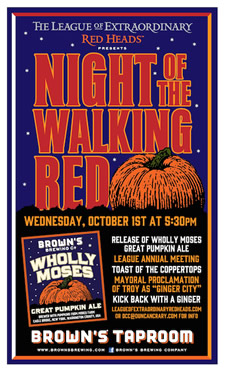 The League of Extraordinary Red Heads will once again stage its Night of the Walking Red October 1 at Brown's Brewing Co. in Troy.
Organizer Duncan Crary has also managed to get the city's mayor to issue a proclamation for the day. A clip:
Now, therefore, I, Lou Rosamilia, Mayor of the City of Troy, do hereby proclaim that, on Oct. 1, 2014, our fair city shall also be known on this day as GINGER CITY, USA, a Shangri-La or Brigadoon for red heads around the world to visit and "kick back in," not be kicked.
The night will also include a "Toast of the Coppertops" with Brown's Wholly Moses Pumpkin Ale. It starts at 5:30 pm -- admission is free. And it's our understanding that non-redheads are welcome. Probably.
As you know, Duncan worked with on the Rail, River, Hudson tour this year.
Hi there. Comments have been closed for this item. Still have something to say? Contact us.