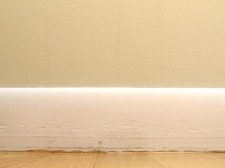 Sandra emails:
We just bought a house, and discovered that there is very badly chipping lead paint on a couple of radiators in our house. Could some of your readers recommend a good lead abatement specialist to come and paint this for us? We had also considered sandblasting and powder coating them, but that is looking like a lot to organize: A plumber to uninstall and reinstall, someone to move very heavy objects, the sandblaster, plus it is getting cold and we don't want to be without heat for the next month. It just got overwhelming. We have a nine-month-old baby in the house so we want to make sure that it is done well. The house is almost all wallpaper and finished wood, so lead isn't a huge concern in the house otherwise. Thanks!
There are a lot of old houses in this area, so there are certainly people who have also encountered this issue.
Got a suggestion for Sandra? Please share!
Hi there. Comments have been closed for this item. Still have something to say? Contact us.