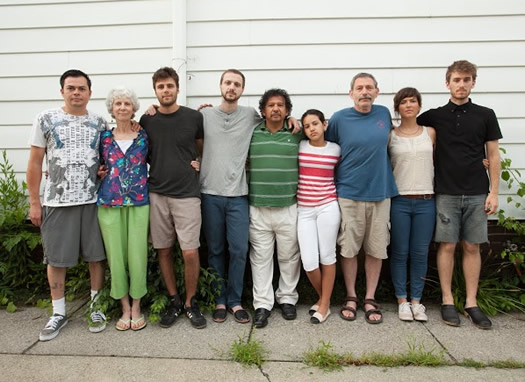 By Lauren Hittinger
In North Troy there's a group of nine individuals trying to promote economic development and social change with very different approach. This collective, working under the name Margination, is an ongoing experiment in collaboration and interdependency -- sharing financial resources, expenses, even housing.
Their goal is to use the skills of group members to provide secure work and secure housing to demonstrate that anyone with determination can flourish inside of a local economy.
The members of Margination are a diverse group, from different backgrounds and professions, having previously worked in fields such as education, tax prep, and housing. None of them is originally from the Capital Region. Most of the group met while doing social service and nonprofit work outside in Chester, Pennsylvania, just outside of Philadelphia. While they were proud of the work they were doing, they also wanted to do something with a bigger impact.
"We didn't want to be professionals driving into these communities and then leaving," says Jesse Marshall, Margination member. "We wanted to start something on our own. We wanted diversity, something egalitarian, and something inclusive."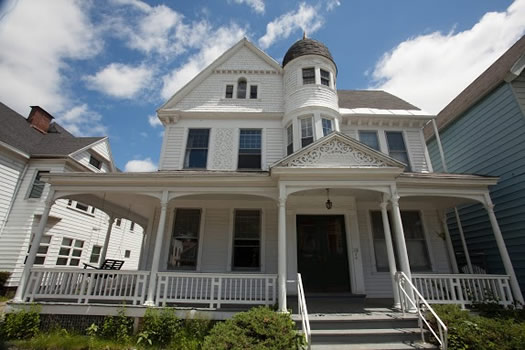 The Margination shared house.
The original seven members knew they wanted to try a new type of community project, but they didn't have a geographic location in mind. They looked at cities up and down the East Coast, searching for a small city in which they could interact with the local government, as well as a place that had a history of being economically depressed and marginalized. The search led them to North Troy -- and they purchased a house on 5th Street in fall of 2013 with pooled financial resources. One by one the nine Margination members moved up to Troy and began work on their house and their businesses.
Margination currently operates two enterprises that generate enough income to support all nine members and the nonprofit entity: Papi & Daughters is a building and renovation company; and Hypergeist is a design and marketing company.
All nine Margination members live in their shared house and work alongside each other. They're aiming to show it is possible to succeed and thrive through small business and collaborative communities. The group shares income and expenses with the goal that every member has their needs met -- even if it's not through an equal distribution of assets. Members are free to leave the group with their accumulated piece of the financial pie, but the physical resources are owned by the nonprofit or the individual companies, so those would stay behind.
"We're a pioneer group. It's not reasonable to expect that people are going to want to do this. Right not we do what we have to do to keep doing. We want to walk the talk before asking for money," says member Rick Goldstein.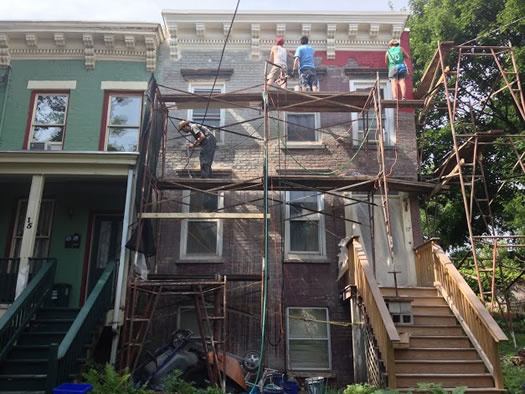 Papi & Daughters at work.
Members say the collective is still working out the kinks, but even so they're setting the table for future growth. In the short term, they are looking for an employee or two to assist with Papi & Daughters, the group's renovation company. They say the ideal candidate would be someone who eventually would want to join in the collective and participate in shared housing and shared expenses.
In the longer term, Margination is looking to purchase a warehouse space to renovate into a mixed-use facility housing a storefront, commercial kitchen, studio space, and workshop area. These resources would have shared ownership and would allow Margination to grow into a network of businesses that could support, collaborate, and provide capital for each other. They're hoping the project will have a much wider impact on the local community and the local economy.
"It's about how do we revitalize economies and use cooperative strategies to rebuild the economy in a big way," says member Matthew Hammel.
"It's about how do we revitalize economies and use cooperative strategies to rebuild the economy in a big way," says member Matthew Hammel.
The ability to scale this collaborative concept is something I wonder about. Ideally they'd like all future participants to be owners and members working for a Margination-owned business, and living in Margination-owned housing. Community members would initially work for Margination businesses, and then later move on to become partial owners -- sharing the risk and sharing the benefits.
While the group says they want to enable future members to be autonomous, the current model is very interdependent. It has its advantages, because risks are spread across nine people and the whole group works to support each other. But how do those dynamics change as more people become involved beyond the core group? And will other community members be willing to give up some independence for the greater good of a wider group? There will inevitably be life goals -- like starting a family, for example -- that might not necessarily mesh with living alongside a bunch of other members in a shared house.
For now, though, Margination is just beginning to scale up beyond the original group and explore these issues. And it's starting a fundraising campaign for its planned warehouse space with a fundraiser at O'Brien's in Troy ($10 door charge for a TNO after-party with a DJ) this Friday, September 26.
"We think we've got a good start with what we're doing," says Jesse Marshall, "but there's so much more to figure out."
Lauren writes about shopping, crafting, and living well on a small budget at The Thrifty Ginger.
photos courtesy of Margination
Hi there. Comments have been closed for this item. Still have something to say? Contact us.