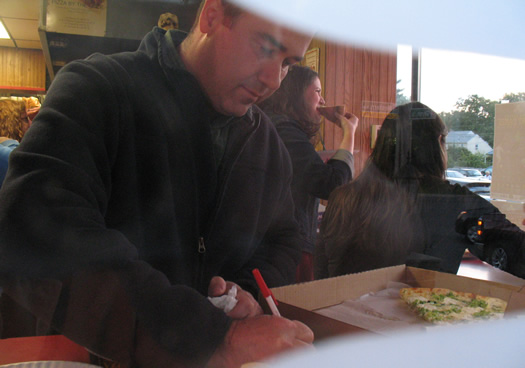 Somebody has to eat all that pizza, you know.
Here are the judges for the 2014 Tournament of Pizza -- AKA, Tournament of Pizza: Clash of Champions; AKA, the Tournament of Pizza to end all Tournaments of Pizza -- sponsored by Keeler Mini.
Albany Jane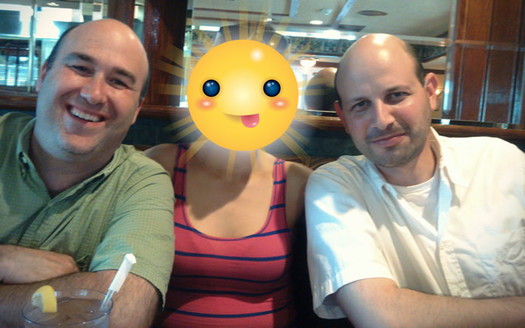 Albany Jane, with a smile on her face. Also, that's Jon in Albany on the left, and Daniel B on the right.
Albany Jane -- of Albany Eats! -- has been a judge for every Tournament of Pizza. It's a remarkable run. And if there was a TOP Judges Hall of Fame, Albany Jane would be its first inductee.
What's the pizza of your dreams? The pizza of my dreams started in the 90s watching Teenage Mutant Ninja Turtles. The thin slices -- so easy to pull out of the pie. The cheese -- always melty and stretched in ways that defied physics. That partially shaped my initial pizza desires, though I've been lucky enough to experience a wide variety of pizza types. My ideal pizza has balance between all of the components -- a crust that doesn't get soggy or flabby; flavorful cheese; and a judicious amount of sauce and toppings.
What would you like to see from the pizzerias this year? Pride. I'd like to see pride behind the counters and from servers. Pride in the product, which turns out better pies because staff are attentive and are more likely serve a pizza that meets their quality standards, and not just "Well, it's done, serve it."
Joe Esposito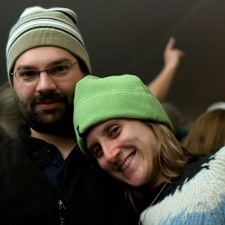 Joe (@esposj), one of the original TOP judges, returns for his sixth trip through the Tournament of Pizza.
What's the pizza of your dreams? I'm a slice guy. I'd love to see a slice shop that uses top notch ( local, artisanal, etc) ingredients.
What would you like to see from the pizzerias this year? I want pizzas with color on the crust. The reason I like slices so much is the extra time in the oven gets the crust cooked.
Daniel B.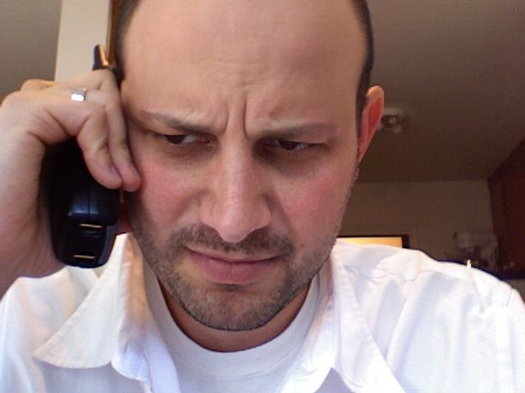 Daniel B. -- of the FUSSYlittleBLOG, and former writer of AOA's Eat This feature -- returns for his fifth go-around as a TOP judge.
What's the pizza of your dreams? There's something special about the bond a pizza eater has with his local slice shop. Sure, there may be better pizzas out there, but this one is mine. I've moved around a lot, but the slice shop that remains closest to my heart is Arinell's in Berkeley. At the time it was the only NY style place worth a damn in the region, and every now and again they would turn out an impossibly brilliant slice.
What would you like to see from the pizzerias this year? I want to see pizza that is unafraid. Give me burnished crusts, assertive flavors, and giant bubbles. I want to see the craft of the maker. It doesn't need to be perfect, it just needs to be delicious. Far too many people are willing to settle for something safe. Bring the danger.
Deanna Fox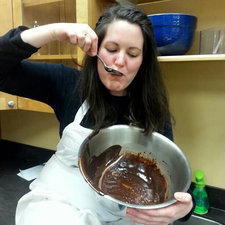 Deanna -- a a culinary gadabout who makes a living writing about food and teaching cooking classes (website, Twitter, or Instagram) -- joins the TOP judges panel for the first time. (She's also the current writer of AOA's Eat This feature.)
What's the pizza of your dreams? My dream pizza includes a chewy crust with a thick band of bare sauce and stringy mozzarella that leaves your mouth gaping like a baby bird or Pac-Man in order to get all the cheesy strands in.
What would you like to see from the pizzerias this year? The winning pizza this year will prove to be the upper crust with high quality toppings, sauce that tastes like tomatoes (as opposed to sugar and tin) and consistency across pizza styles. A deft hand with the use of garlic is also a plus.
Jon in Albany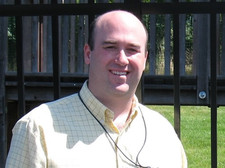 We're very happy to have Jon (@JonInAlbany, blog) join the judges panel. He is a serious connoisseur of pizza.
What's the pizza of your dreams? I subscribe to the Pizza Cognition Theory which basically states that the first pizza a child eats, tastes, and really appreciates becomes "Pizza" to that child. For me, that pizza was from a long-gone restaurant named The Brick Oven in Bridgeport, Connecticut. Technically, it is still there but with different owners and it is an empty shell of what it used to be. Their wood oven produced beautifully browned, crisp crusts with a little bit of char that were covered with just the right amount of full flavored sauce, delicious cheese, and the toppings of your choice. If you build a time machine, please send me back to Capitol Avenue in Bridgeport circa 1993.
What would you like to see from the pizzerias this year? To me, the foundation of a pizza is the crust. Don't get me wrong, sauce and cheese are important. As a rookie judge, I'm really looking forward to seeing how the crusts of our local shops compare to each other. Brown or pale? (I prefer brown.) Screens or no screens? (I prefer no screen.). Any crust bubbles? (They are delicious.) Any char? (Some is great, too much is burnt.) Enough salt? (Bland dough is disappointing.)
____
Thank you to all of this year's judges. The tournament is a big time commitment. And we appreciate the care and consideration they apply to the job. Also -- they play a big role in making the tournament fun for us.
A few quick reminders:
+ Tickets for the TOP Final at Shmaltz Brewing on October 11 -- the first-ever public TOP event -- go on sale Thursday, September 25 at noon. There will be a link here on AOA.
+ If you would like to enter a drawing to attend the private semifinal at Keeler Mini, head over to the dealership's FB page.
+ Round 1 results will start on Monday.
Many thanks to Keeler Mini for sponsoring the 2014 Tournament of Pizza.
Say Something!
We'd really like you to take part in the conversation here at All Over Albany. But we do have a few rules here. Don't worry, they're easy. The first: be kind. The second: treat everyone else with the same respect you'd like to see in return. Cool? Great, post away. Comments are moderated so it might take a little while for your comment to show up. Thanks for being patient.