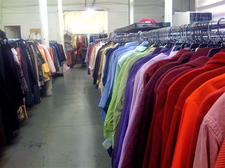 Amanda asks via Twitter:
It's getting cooler & all my warm shirts have holes. What are some good area thrift stores?
After seeing Amanda's question, we went digging through the archive for stuff about thrift stores and it's been surprisingly long since we've done something. It looks like we're overdue.
So, got a suggestion for Amanda (and us)? Please share! Bonus points for a line or two about why you like that store.
Hi there. Comments have been closed for this item. Still have something to say? Contact us.