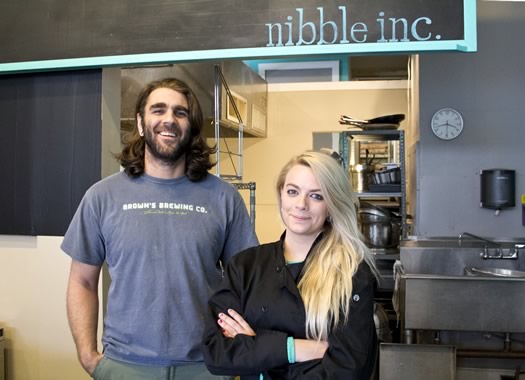 By Lauren Hittinger
Sometimes food can inspire you.
Jessie Cramer and Michael Cunningham had no plans for a donut shop until "eating a really good donut," says Cunningham -- "a mind-blowing donut."
"The best doughnut I've ever had," Cramer adds. "And I thought 'How can I make this donut so I can have it whenever I want?'"
The pair figured out how to make their ultimate doughnut and they're opening a shop -- Nibble Inc -- this Saturday to bring those donuts to Troy.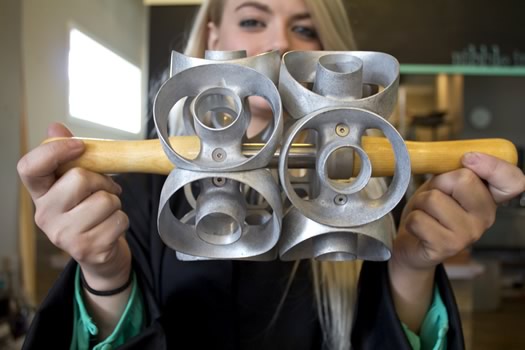 The inspirational donuts in question came from The Holy Donut in Portland, Maine, where they were on a family vacation. Cramer admits that she didn't even prefer donuts before trying these "perfect" donuts. But after a few bites, she was convinced.
Those donuts in Portland included an ingredient that might not spring to mind when you think of donuts: potato. And Nibble is also including potato in its recipe. Cramer and Cunningham says the potato doughnut base is almost crumbly, but moist, with a slightly crispy outside. The substantial pastries have been likened more to cake than to the fluffy donuts you may find from large chains. (I haven't had the chance to try a Nibble donut, yet.)
"We don't want to just be a donut shop," says Cramer. "We want to be an organic donut shop, and a gourmet donut shop."
Nibble Inc. plans to use lots of local ingredients throughout their menu, like Lloyd Spear's honey, Peanut Principle peanut butter, and a custom juice from Collar City Hard Pressed. Customers can choose to pick up a basic donut, like the old-fashioned recipe, or opt for something more elaborate, like a maple bacon donut. Nibble will also have made-to-order "cocktail" donuts, a nod to Cunningham's history as the former bar manager at The Malt Room. These creations, like their margarita doughnut, will be made in front of
you using liquor in the doughnut toppings.
There will also be gluten-free options that are cooked using a separate fryer.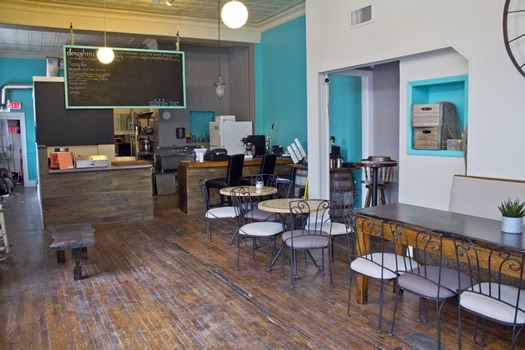 Both Cramer and Cunningham have experience in food service but, as Cunningham puts it, "We went from zero to donut shop in days." Cramer's parents were equally inspired and wanted to support the duo in whatever way possible.
The entire venture has been completely driven by family support. Cunningham is dating Cramer's sister, Jacqueline Weaver, who will be managing the business finances. Cunningham's son spent the last parts of his summer vacation helping clean up the space. Cramer and Weaver's father is a general contractor who has spent nights and weekends preparing Nibble for opening. And their family has helped provide initial start-up funds for the business.
As Cunningham says, "It's all in. Everybody's working."
As for the question of spelling -- donut or doughnut* -- both emphatically agreed that it's doughnut. "Because we actually use dough in our doughnuts" says Cramer.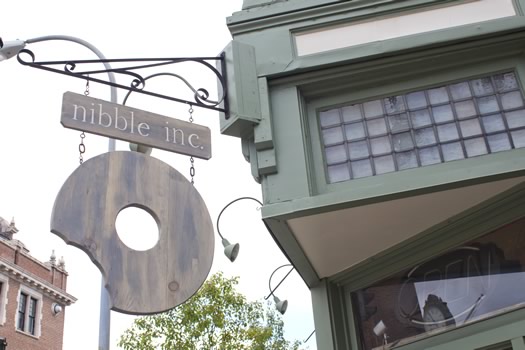 Nibble, Inc. is located at 461 Broadway in Troy, the former location of Francesca's. It will be open Monday through Friday 6 am-1 pm and Saturday 9 am-2 pm, or until they run out of donuts. This Saturday, September 27 is the shop's first day.
Lauren writes about shopping, crafting, and living well on a small budget at The Thrifty Ginger.
(* AOA house style is "donut." We concur on the general deliciousness of fried pastries, though. )
Find It
Nibble Inc
461 Broadway
Troy, NY 12180
Hi there. Comments have been closed for this item. Still have something to say? Contact us.