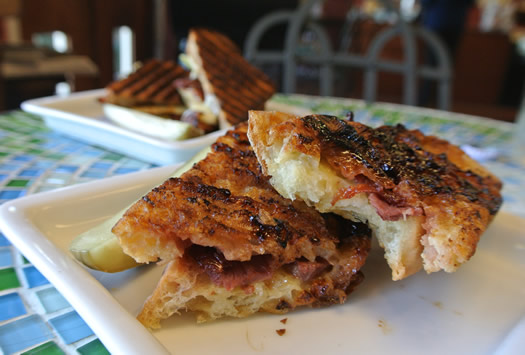 By Deanna Fox
Ah, fall. How nice to see you again. I'm looking forward to fully enjoying you with cozy knit sweaters, marled wool socks, nights by the fire, and cheese... lots and lots of cheese.
There's just something about cheese that lends itself to cooler temperatures. Macaroni and cheese. Cheese fondue. Cheese-filled pastries. And did I mention grilled cheese?
The grilled cheese of my youth -- potato bread slathered with mayonnaise on the outside, holding together stringy slices of white American cheese -- is very different from the preferences of my adulthood. Today, artisanal cheese and bread is where it's at for me. And Thankfully there's a place that perfectly merges my autumnal longings with melty, oozing delight.
If part of being an adult is delayed gratification, then The Cheese Traveler in Albany is certainly a place for the grown-up set. The concept of grab-and-go is alive and well here, but that doesn't mean it all happens quickly. Here, you will need to wait a spell for your sandwich. Cheese, meat, bread, and other accouterments are cut, assembled, and grilled to order. During the brief time most of us have for work-time lunch breaks, this might not be the most convenient option, but it fits the bill for a light dinner option or weekend meal.
This isn't grilled cheese you want to eat every day anyway. (Some would argue you shouldn't eat any grilled cheese every day, unless the thought of angioplasty excites you.) This is grilled cheese to savor, indulge in, and appreciate fully.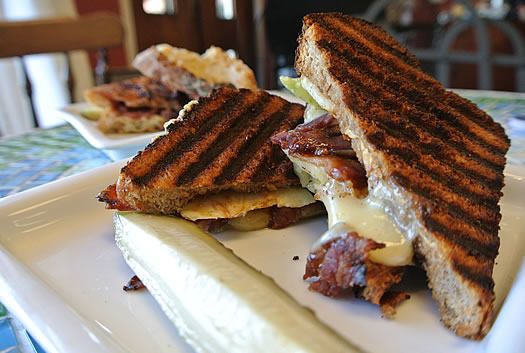 The High Peaks
Eric Paul, The Cheese Traveler's proprietor, and team take the best parts of a cheese plate and merge them into a handheld experience. The menu includes a regular lineup of shop favorites along with seasonally-available concoctions. During my recent visit, I opted for menu regular Sweet and Savory ($7.99), a sandwich made from Bonfiglio and Bread' ciabatta with Pawlett (a semi-soft, washed-rind mild cow's milk cheese from Vermont), smoked duck, and sour cherry preserves. On first glance, the sandwich seemed bread-heavy with little filling, but looks deceive. The first bite of the sandwich brought an array of flavors that left me anxious to get the next bite into my mouth. Each airy pocket of the ciabatta was filled with molten bubbles of dairy or tangy cherries. The duck breast gave the sandwich heft and substance. It was a perfect bite, each time.
I also tried the daily special, named High Peaks ($9). Nufenen (a Swiss Alpine cow's milk cheese) was paired with slab bacon (cooked to order, which means the smell will have you downright hangry if you don't get your grubby mitts on that sandwich posthaste), onion jam, apples, and slices of Bonfiglio and Bread's sandwich loaf. It tasted like autumn, warm yet crisp, with a hint of tart from apples to balance out a caramelized sweetness from the jam.
(Nervous about a cheese? Don't worry, it is custom to let the clientele sample a cheese before committing to it.)
Each sandwich comes with a Pucker's half-sour pickle. And a variety of soups and cold bar offerings (like the occasional salad and variety of olives) are also available for purchase. The Cheese Traveler also carries a range of other gourmet items, including craft beverages (like Italian coffee soda), French salted caramels, and Mast Brother's chocolate bars.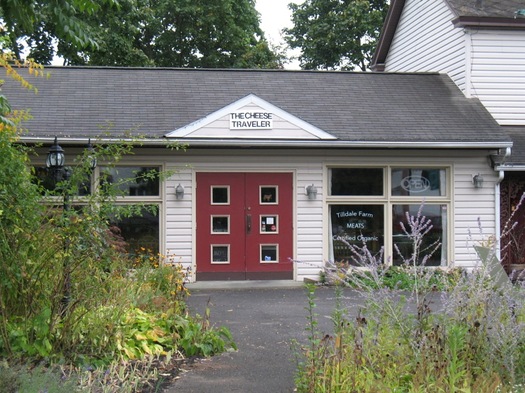 There's nothing ordinary about The Cheese Traveler, and so it's fitting that the typical grilled cheese has no home here. It's not about snubbing the slap-dash favorite; instead, it's about paying appreciation to the good stuff -- whether that be the best globally (the cheese and many meats), regionally (the bread), or in the neighborhood (Mingle's kimchi, a featured on a regular menu sandwich). And it's at a high quality-to-price ratio.
This style of eating might not be in your daily eating repertoire, but that is part of the appeal. A simple pleasure at an affordable price is a fine way to treat yo'self.
Deanna Fox writes about many things, mostly about food. More can be found on her website, Twitter, or Instagram.
The Cheese Traveler advertises on AOA.
Find It
The Cheese Traveler
540 Delaware Ave
Albany, NY 12209
Hi there. Comments have been closed for this item. Still have something to say? Contact us.