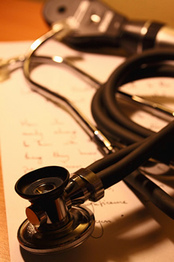 Becky emails:
I'm hoping some readers can help me out here. I see a doctor at the Endocrine Group on Washington Ave in Albany (I would rather not say which one) for my hypothyroid condition and am really unhappy with his care. He's really brief with me and working with some outdated information. I hope this isn't a long-shot -- can anyone recommend a really good endocrinologist who is especially good at dealing with thyroid issues?
We get doctor questions fairly often, and it's notable how much personality/bedside manner/whatever you call it matters. It makes total sense -- the last thing you want when you're feeling sick or uncertain is to deal with someone who doesn't appear to be listening or just isn't friendly.
So, got a doctor to suggest to Becky? Please share! And if you do, please include a line or two about why you like that doctor or practice.
photo: Flickr user a.drian (CC BY-ND 2.0)
Hi there. Comments have been closed for this item. Still have something to say? Contact us.