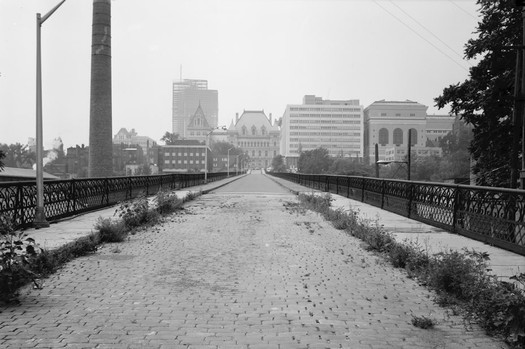 Historical photo of the day: The Hawk Street Viaduct in Albany, which once spanned Sheridan Hollow, connecting Arbor Hill to area near the State Capitol.
The bridge was built in 1890, and was apparently a bit of a marvel because it was said to be the first cantilever arch bridge. The viaduct was demolished in 1970 after being allowed to fall into disrepair (it had been closed to vehicle traffic in 1968 because of safety concerns). [Smithsonian Institution, p 200]
Carl wrote a great post about the viaduct a few years back. And here's a postcard of the bridge from the early 1900s, via the Albany Postcard Project.
A large-format version of the photo above, along with a few other photos from the Library of Congress, after the jump.
The photos are all the way at the top in large format -- click or scroll all the way up. They appear to be from July 1970, around the time when the bridge was being dismantled.
[via @willwaldron]
Hi there. Comments have been closed for this item. Still have something to say? Contact us.