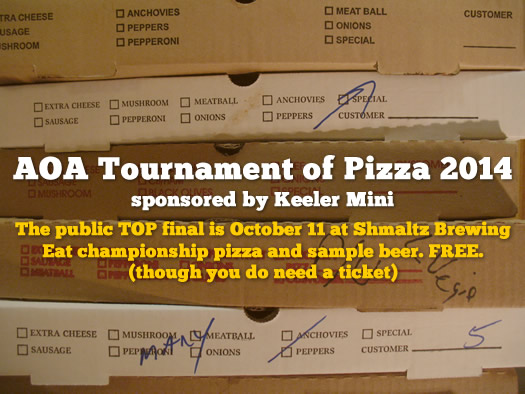 Update: The tickets have now all been claimed! And a waitlist has been set up.
Ladies and gentlemen of the Capital Region, we would like to take a moment to tell you today about a bonafide pizza miracle. Years from now, when they write the history of the Tournament of Pizza -- and they will (well, maybe they will) -- let them write that on this date, the first day of October in the year 2014, a great benefactor came forth from the world of real estate brokers and offered free pizza to the citizens of this great land.
Yes, ladies and gentlemen, it's true -- tickets to the All Over Albany Tournament of Pizza championship final tasting at Shmaltz Brewing on October 11 are now free thanks to realtors Brian Brosen and Reggie Monroe of The Capital Team at Realty USA.
Brian and Reggie say they're pleased to be able to share their love of pizza and beer with AOA readers. They've purchased all of the tickets to the first-ever public tasting event in the august history of the Tournament of Pizza, and they're giving them away to Capital Region pizza lovers.
No, you say -- it cannot be. But yes, we assure you, it is. So how do you get to take part in this delicious miracle? You need to claim a free ticket and you can do that at this link.
The event is Saturday, October 11 at 3 pm. The free ticket includes four slices of championship pizza (one from each pizza entered in the final), two five-ounce pours of Shmaltz brews, a ballot for the People's Choice Plate, brewery tours, and other surprises.
(And if you've already purchased a ticket (thank you!) keep an eye for an email confirming a refund and switch to the free ticket.)
The AOA Tournament of pizza is sponsored by Keeler Mini.