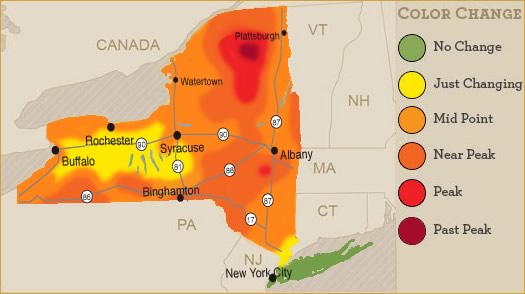 Because autumn: Here's the latest foliage map from the I Love NY site, which posts regularly updated -- and extensive -- foliage reports by area and county. Here's a clip from this week's report:
In Rensselaer County, spotters predict 55-65 percent color change in the eastern and northern portion of the county and near peak conditions this weekend, while the county's western and southern areas will be at about 35-50 percent changed and at midpoint of transition. In the northern and western portions of the county, look for a variety of colors, including bright shades of orange, yellow and red. In the western and southern parts of the county, look for bright shades of red, orange and yellow.
In Albany County, foliage spotters in Voorheesville reporting from Thacher Park predict up to 60 percent color change with bright yellow leaves along with touches of red. Foliage is at midpoint of transition. Schenectady County spotters reporting from Schenectady expect 50-55 percent color change with brilliant shades of yellow along with a tapestry of red at midpoint of change. In Saratoga County, Saratoga Springs leaf peepers predict 35 percent color change with bright, vibrant yellows, oranges and reds visible throughout most of the area with subtle touches of gold.
More foliage mappage: Yankee Magazine and the aptly-named Foliage Network.
map adapted from I Love NY