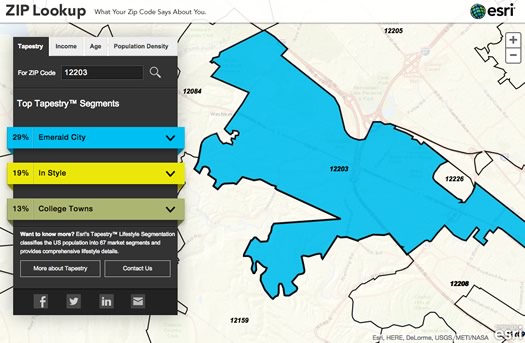 Companies are constantly gathering and analyzing data about us in an effort to more effectively sell stuff or make decisions about where to locate. These data profiles often aren't readily available to the public, so it's sort of like "they" are talking about all of us behind our backs.
A big mapping/data company called ESRI has posted an online app that provides a peek at one of these attempts to categorize people and geographic areas into "unique market segments." The Tapestry Segmentation project uses Census, marketing, and geographic data to, in the Wall Street Journal's words, "potentially figure out if your neighborhood is more into lattes or latkes."
We were curious about how this area is being profiled, so we looked up a handful of local ZIP codes.
The links for each ZIP lead to the ESRI site where's there more info.
12203: A big chunk of the middle of the city of Albany, plus some of Guilderland
Biggest segment: "Emerald City" - 29 percent
Description of that segment: "We're young, mobile, well educated, and well employed. We're more likely to rent in low density, urban neighborhoods throughout the country. Long hours spent working and online are balanced with regular visits to the gym. We go online for professional networking, online dating, and blogging. Cell phones are essential so we can text and always stay connected. Cognizant of the environment, we buy natural, organic, or environmentally-friendly products; Whole Foods and Trader Joe's are favorite grocery stores. We're politically liberal and donate to NPR and PBS. To keep life fresh, we're eager to learn new things and to save time, we contract for house cleaning services. Music and the fine arts are major interests; we listen to music, visit art galleries, and make art at home."
12210: Albany, Center Square, Hudson/Park, Arbor Hill
Biggest segment: "Metro renters" - 53 percent
Description of that segment: "Young, mobile, educated, or still in school, we live alone or with a roommate in rented apartments or condos in the center of the city. Long hours and hard work don't deter us; we're willing to take risks to get to the top of our professions. Most of our income goes for rent, fashions, and the latest technology; we use our cell phones and computers every day for news, entertainment, shopping, and social media. We live close to our jobs so we can either walk to work or take a cab. We buy groceries at Whole Foods and Trader Joe's and shop for clothes at Banana Republic, Nordstrom, and Gap. We practice yoga, go skiing, and attend Pilates sessions."
12205: Colonie/Wolf Road
Biggest segment: "Parks and Rec" - 42 percent
Description of that segment: "We achieved the dream of home ownership by living within our means and buying an affordable older home in a well-established neighborhood. We're practical suburbanites who are two-income, married couples approaching retirement age; however, we're still working because we're comfortable in our jobs and homes with no plans to retire soon. Stocking up on staples at warehouse stores and thoroughly researching big-ticket items before purchase confirm our consumer caution. This also extends to our vehicles; price and practicality are primary considerations before selecting a domestic truck or SUV. Exercising is part of our routine; we take advantage of local parks, gyms, and home equipment. Movies, dinner out, and gambling online or at casinos fill leisure hours."
12054: Delmar
Biggest segment: "In Style" - 30 percent
Description of that segment: "We're professional couples or singles with strong work ethics and no kids. We embrace our urbane lifestyles that support the arts, travel, and extensive reading. To reflect our style, we focus on home maintenance and improvement; we'll undertake remodeling projects ourselves or hire contractors. Always connected, we carry smartphones and use many of the features. Healthy investment income boosts our wages and net worth. Well-invested and well-insured, we're already preparing for our retirement. When shopping, we check for the best prices and redeem both regular and mobile coupons for even better deals."
12180: Much of Troy
Biggest segment: "Set to Impress" - 22 percent
Description of that segment: "We're young, either still in college or working, and renting apartments in large multi-unit buildings in the city or the suburbs. Many of us can walk or bike to work; some drive a used, imported vehicle. Many of us live alone. Even though we're on our own, we still keep in close touch with family. Most have a cell phone; no landlines for us! We go online to manage our finances and check social media. We're very image-conscious and often buy clothes impulsively to look good. We shop for deals, stocking up on bargains. We're brand-conscious, but will buy generic if the price is right. We're really into music, listening to and downloading a variety of the latest music, and knowing about the local music scene. We also go clubbing and attend rock concerts."
12304: Schenectady, Central State neighborhood
Biggest segment: "Hardscrabble Road" - 26 percent
Description of that segment: "We're young, diverse, married couples with and without children, and single parents. You can find us in urban areas, mostly in the Midwest and South. We're struggling. Limited education holds us back from obtaining good jobs. Those who do work have jobs in service, manufacturing, and retail. Buying sale items in bulk and generic instead of brands helps stretch our shopping dollars. Kids are our focus; baby and children's products are regular purchases. We also buy from an in-home sales rep and watch QVC or HSN. There's no extra money to save or invest. BET, MTV, and Game Show Network are favorite TV channels; gospel, R&B, rap, and hip-hop are on our radios"
(Central State is just about the most racially diverse neighborhood in the Capital Region.)
12309: Niskayuna
Biggest segment: "Savvy Suburbanites" - 18 percent
Description of that segment: "We're empty nesters or empty-nester wannabes who still have adult children living at home in established, owner occupied suburban neighborhoods. We're well-educated, well-read, and well-capitalized. We research products prior to purchase, and seek quality instead of price. Technology is used for everything including communicating, shopping, banking, and staying current on the news. Even though we're financially secure, we use a variety of resources for informed investing. We're not afraid of debt and may carry first and second mortgages and a line of credit. Late-model SUVs, station wagons, and minivans may be in our driveways. We're foodies and enjoy cooking; natural or organic products are preferred. We exercise, and buy top-of-the-line gear for golf and skiing. Good food and wine and cultural events are also not to be missed."
(Niskayuna has the highest median household income in the Capital Region.)
12020: Ballston Spa, Malta
Biggest segment: "Green Acres" - 23 percent
Description of that segment: "We're older, self-reliant, married couples who are still working, but edging toward retirement. Most of us have no children living at home. We earn income from wages and salaries, investments, and increasingly, Social Security benefits. Country life is for us, so you'll find us in the rural pockets of urban areas, living in older single-family homes with acreage. Because our homes are older, we handle maintenance and remodeling projects ourselves, and own the proper tools to accomplish the tasks. Vegetable gardening is a priority. We're active in the community and are members of fraternal organizations and veterans' clubs. Even though we're pessimistic about the economy, we're not afraid of carrying some debt, such as home and car loans. We spend cautiously, focusing on quality and durability. Technology isn't important; even though we shop and bank online, the Internet is primarily for entertainment."
____
[via @rachbarnhart]
Hi there. Comments have been closed for this item. Still have something to say? Contact us.