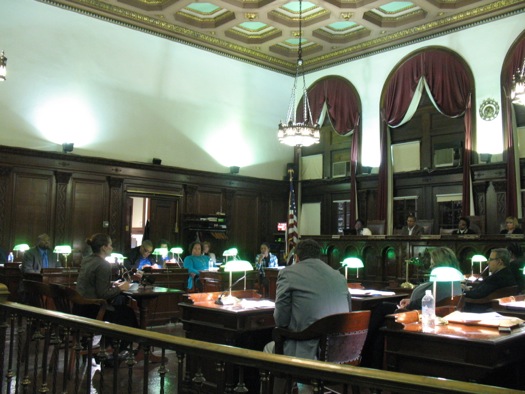 The Albany Common Council passed the ordinance for a red light camera demonstration project in the city Monday night. The ordinance passed 11-4 after some impassioned comments from council members.
Pending a signature on the bill from mayor Kathy Sheehan, who supports the measure, Albany will be on its way to becoming the first municipality in the Capital Region to get the automatic cameras.
Comments, the votes, the ordinance, and a few thoughts...
Background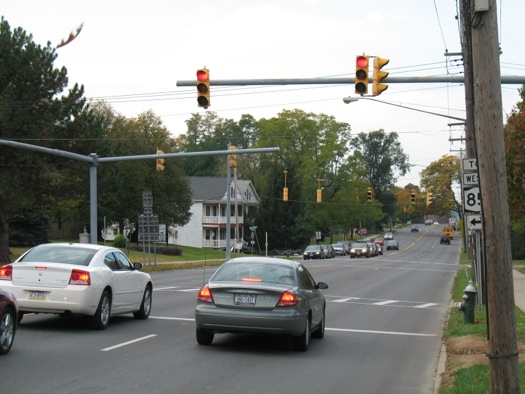 A few weeks back, we ran through some of the issues surrounding red light cameras. Many of those issues surfaced again Monday night ahead of the vote. The super quick summary:
+ Backers of the red light camera ordinance -- including mayor Kathy Sheehan, Albany Police Department leaders, ordinance sponsor Leah Golby, state Assembly member Pat Fahy -- pitched the idea this past summer as a safety measure, and as a response to concerns frequently mentioned at community meetings about traffic safety issues.
+ The state legislature passed, and Andrew Cuomo signed, a bill giving Albany the authority to purse red light cameras.
+ The ordinance lays out a demonstration project involving cameras at 20 intersections. The owners of cars tagged by the cameras would be hit with a $50 violation. Violations would be reviewed by a city police officer being issued.
+ Albany police department officials pledged that the city would retain control of signals, and would not allow a red light camera contractor to manipulate yellow light times.
+ Red light camera skeptics -- both in the public and on the Common Council -- argued the experience of other municipalities was inconclusive on whether the cameras increased safety. And they pointed to problems with corruption and other operational snags with the contractors that provide cameras as evidence the systems are fundamentally flawed and the revenue from them can warp incentives.
+ Sheehan's proposed city budget included $2 million in revenue from the cameras. That intensified public criticism from camera skeptics that the plan was more focused on revenue generation than previously stated.
+ A copy of the ordinance is below.
Public comments
Snippets from a few of the public comments ahead of the vote.
Pat Fahy
State Assemblywoman in the 109th District, which covers much of the city of Albany. She was the sponsor of the state bill that opened the way for Albany to have the cameras.
"For me, this is about using technology. It's using technology so we can have a police force that we free up to investigate harsher and more serious crimes. We have an incredibly well-trained police force. Quite frankly, that's where I'd prefer to see their energies. So this is using technology in an appropriate way -- because, remember, this has to be done right -- and it's using technology so that we can free up very scarce, but vital police resources. Are there revenues to be raised? Absolutely, absolutely. Unfortunately, that is how we get folks' attention, through their pocketbook."
Patricia Reilly
Head of the Nassau County Traffic and Parking Violations Agency from 2002-2009 while it implemented red light cameras -- she's now a Slingerlands resident.
"If I could recommend a process, that process would be that for every camera installed in Albany make sure that there's adequate signage for the camera, whether it's a beacon, a sign. It shouldn't be that you're trying to ensnare someone. ... I would urge all those decision makers and stakeholders to make sure, whatever company you choose, you decide how money is collected, you decide with your traffic engineers about the federal standard for yellow lights. That is really important."
Rob Arrigo
Chairman of the New York chapter of Campaign for Liberty, Saratoga Springs resident.
"Red light cameras, not to mince words, are a scam. They're a complete scam. And they're designed to redistribute money from hardworking moms and motorists and dads trying to get to work and redistribute it to a for-profit corporation that wants as many violations as humanly possible so they can pad their pocketbook."
Jesse Calhoun
Republican candidate for the 109th state Assembly District. He's been a vocal opponent of red light cameras.
Re: American Traffic Solutions, one of the red light camera companies: "This is a corporation that 30 percent of it is owned by Goldman Sachs. And they got a lot of money from the federal bailout funds and then they used that money to buy up a lot of their competition, and they used some of this money to lobby and engage people like council members, Assembly people. And it kind of is reflective of this larger picture that's kind of a stranglehold on the system where the money generates more influence and the people are blocked out. ... The moral hazard, I believe, is too great. Once you get the money flowing in from these companies, the gotcha mentality may be a symptom of the money that flows."
Council comments
Snippets from comments made by Common Council members before the vote.
Leah Golby
10th ward - sponsor of the red light camera ordinance
"We've had much discussion on this. And I understand there are some people who are opposed. I see this very clearly as one tool in a toolbox to help address our egregious public safety issue, traffic safety issue, on our streets."
Jack Flynn
8th ward
"I did my own study, and my study was going to my constituents in the 8th ward and overwhelmingly people in the 8th ward are against this vote."
Mark Robinson
5th ward
"We are in a deficit, we have to climb out of the deficit. ... This is a tool to generate revenue. There are 60,000 cars that come through Arbor Hill every day, rushing to get to work, and rushing to get home to before they meet the traffic. And now they have to be conscious about when those lights change."
Ron Bailey
3rd ward
"We've been asking for years for speed bumps, not red light cameras, speed bumps. Because our kids and grandkids are getting hit. You know how many people are going to change their route now because of the red light cameras? They'll be those who fly through our neighborhoods, hitting our children, not caring about the crossing guards or anything. Those are the things we need to be worry about. This piece of legislation started out with the mayor saying it was not about revenue. We get to the budget session, it's about revenue. ... I cannot vote on a piece of legislation that's in a budget that we have not talked about ... And the mayor said, they can either accept the red light cameras or give up the ladder truck. I will not be bullied or blackmailed to vote for a piece of legislation that I don't believe in."
Frank Commisso, Jr
15th ward -- one of the most vocal critics of the legislation on the council
"[Putting the revenue from cameras in the general fund] gives all 15 of us a bad set of incentives. It creates these adverse incentives for our police chief, for our deputy police chief, for our mayor ... Don't let this pass tonight. You're making a bad decision that's going to hurt the city for years to come. When we run out of money from the red light cameras, when people learn where they are, then the speed cameras come. And then you'll have those set up all over the town."
Judd Krasher
11th ward - one of the most vocal critics of the legislation on the council
"Another alternative that I felt would have been far worthy of our time, certainly of our legislators' time, is to do something very simple: reduce the speed limit in the city of Albany to 25 miles an hour and give the city authorization to reduce the speed limit even more to 20 miles per hour where we deem appropriate. ... So while we continue to give tax breaks to multi million dollar corporations, our public safety is suffering. And red light cameras, and lining the pockets of other multi million dollar corporations, is not the way to go." (Krasher spoke for about 18 minutes, so this is just a small slice of what he said.)
Michael O'Brien
12th ward
"I think one of the important things is written right into this is that this is a demonstration project. In fact, it's subject to reviews by the council, by the state, and indeed by the city of Albany because it will be posted on the city website. ... And I do believe as demonstration, with the proper reviews, we can make a contribution to traffic safety."
Richard Conti
6th ward
"There is research and studies and data on both of sides of this issue. And what you do with research, studies, and data, you learn from it. You learn from mistakes that other people have made. And you emulate the success in those communities that have been successful. That's the purpose. You listen to both sides and you learn in terms of moving forward."
Cathy Fahey
7th ward
"We would all love a police officer on every corner to enforce traffic. But in this day and age we can't afford it, we've got to come up with creative solutions. Technology is one of those creative solutions that can save us money."
Carolyn McLaughlin
Common Council president
"I'm not sure whether it is about revenue or whether it is about safety. At this point, I'm just saying it's about both. Because I heard both arguments. But I also hope that as the process goes forward that there will be opportunity for the council to have further input about how this program works."
The vote
A few things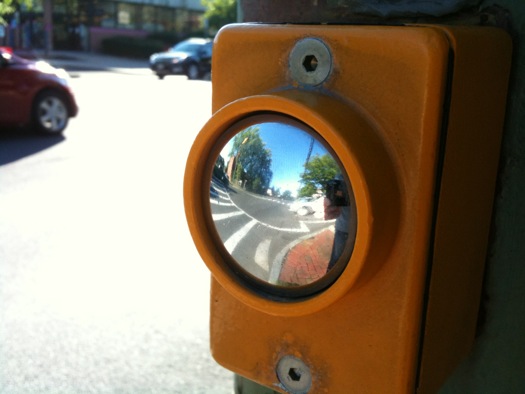 Data
This discussion over red light cameras often reached a frustrating point because there was a lack of data about the traffic safety situation in Albany. Many people involved -- both advocates and skeptics -- acknowledged that red light running was a problem, but no one could point to good data about the incidence of this behavior or its effect (or lack thereof) on accidents and injuries. City officials said they were hesitant to dive into the research before getting the OK to advance because of the work involved. And that's understandable, especially when resources are tight.
But the absence of data hurt many arguments, especially those pushing for the cameras. Anecdotes about problem intersections and injuries are fine (we certainly have a bunch of them) -- and they certainly point there being a persistent problem -- but systematically collected evidence would have been more persuasive. If anything, a small study of 5-10 high-traffic intersections might have been able to give some better sense of the scale of the problem. Also, publicly identifying a pool of, say, 30-40 intersections based on incidence data that could be in line for the selected 20 spots would have given people a more concrete sense of how the cameras might help.
The math
Another numbers-related issue with the ordinance involved the $2 million revenue figure floated in the budget. Absent data about the incidence of red light running in the city, that number just sort of seemed to come out of nowhere. APD deputy chief Brendan Cox mentioned at a Common Council public safety committee meeting that the number was generated by an algorithm from American Traffic Solutions, one of the most prominent companies providing red light cameras. Judd Krasher posted an email he received from a lobbyist for ATS indicating the figure was "based on data that included an analysis of city intersections and multiple other factors including our experience in over 300 municipalities served by ATS."
OK, then share the math behind that with the public so people can make their own judgements about the assumptions folded into it.
Engineering and education
If there's one part of this situation that everyone involved seemed agree upon, it's that the city of Albany needs better traffic engineering, design, and education. Proponents of the cameras said the tech would be just one part of an overall approach including better engineering and education. Skeptics argued for the city to look into making engineering changes before going for the tech. And this isn't surprising, because we're guessing anyone who's spent any sort of substantial time in the city of Albany has stories about frustratingly coordinated lights or intersections that just don't seem to work the right way. And on top of all that, drivers and pedestrians could be both be more conscientious.
So, given that everyone seems to be on the same page about this (even if arriving at it from different directions): Let's see the concerted effort to push through these changes, and a willingness to experiment with ideas such as the Madison Road Diet.
Philosophy
The red light camera issue has been interesting because it's been intersection point for a lot of different threads about traffic safety, how government works, the potential corrupting influence of money, the role of technology, and fairness.
It's probably a sign of things to come as our society heads toward an ever-more-automated future, and we kick around ideas about technology taking over functions from humans. Today's it's about red light cameras replacing human police officers giving out traffic tickets. But it's not so hard to see a day when we're all debating (to speculate somewhat wildly) police drones or algorithmically-triggered code enforcement. How much are we willing to rely on these technologies (and are we willing to cut other things in order to not rely on them) -- and to what extent will we consider it fair?
The ordinance
This is a copy of the ordinance we got from sponsor Leah Golby the afternoon of October 20 ahead of the vote.
One of the notable changes from the original version: A new provision which diverts any revenue above the amount in the city budget to a reserve fund for traffic safety.
Albany Red Light Camera Ordinance 45.92.14 - Traffic-Control Signal Photo Violation-Monitoring System (Amen...
Hi there. Comments have been closed for this item. Still have something to say? Contact us.