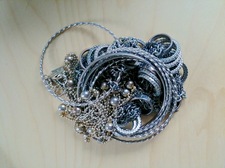 CAOD emails:
Have you ever sold your old gold and silver? I have dozens of single earrings and broken chains that I need to get rid of. Where did you sell it and did you feel you got a fair price?
We see ads for this kind of thing all the time, but they often have a Crazy Louie's House of Ridiculous Deals feel about them. And a few years back News10 looked at the prices quoted at a traveling gold and silver road show -- there was quite a difference between when the camera was on and off.
So, got a suggestion for CAOD? Please share!
Hi there. Comments have been closed for this item. Still have something to say? Contact us.