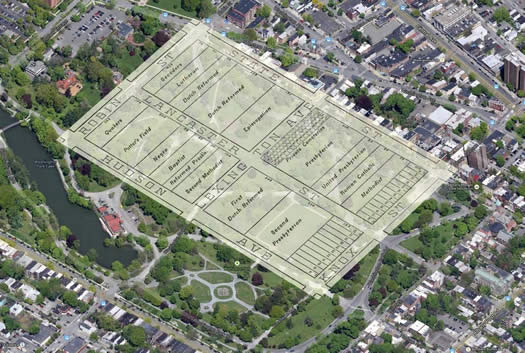 Historical fact of the day, because Halloween: The site of what is now Albany's Washington Park was once a cemetery -- a rather large cemetery.
The image above was created by Albany Archives. It's an overlay of a map of the old cemetery on Washington Park. It covered a big portion of what's now the park.
A few years back Paula Lemire wrote about the "State Street Burying Grounds" over at Albany History. A clip:
The State Street Burying Ground, founded in 1800 as an alternative to the overcrowded churchyards and private family graveyards, was located at the present park's northeast corner. Enclosed by a ten-foot high wooden fence, the grounds were divided into four large section for various churches, as well as an area set aside for strangers, African-Americans, and deceased persons not associated with any religious congregations. Graves from a number of smaller burial grounds were relocated here as progress encroached on downtown churchyards, raising the real estate value of land previously dedicated to the dead.
Within a few decades, however, the State Street Burying Ground was already in serious decline. The high mortality rate of the early 19th-century, combined with epidemics such as an 1832 cholera outbreak, had resulted in a badly overcrowded graveyard. The fence had suffered from neglect and vandalism, livestock wandered freely among graves, headstones were stolen or damaged, and immigrant gangs used the forlorn spot for violent brawls.
After the opening of the Rural Cemetery in 1844, the State Street Burying Grounds' condition became so pitiful that it was deemed "in the highest decree discreditable to the city authorities and the churches interested." A future Superintendent of Albany's parks later recalled that there was "a mouldy and neglected air about the place."
The situation eventually prompted the Common Council to close the cemetery, and the graves -- said to be 40,000 in number -- were moved to the then-new Albany Rural Cemetery all the way out in the far, far reaches in would come to be called Menands.
Of course, the Albany Rural Cemetery still exists (even if it's no longer rural). And it's a nice place to walk as you take in the monuments to the many Albany-famous figures from the past.
Earlier on AOA: Capital Region haunts
Hi there. Comments have been closed for this item. Still have something to say? Contact us.