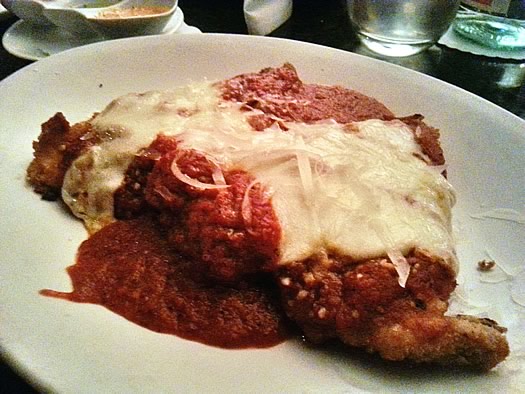 By Deanna Fox
There are two types of Italian restaurants in the Capital Region: The eh-talian, and the EYE-talian. The former are the restaurants that serve food more in line with something plucked from the Tuscan hills. The latter are the checkered tablecloth joints where most dishes come slathered in red sauce.
Unless you count D'Raymonds in Loudonville. Then I guess there are three.
D'Raymonds lies somewhere in the middle of the two mentioned above. It embodies the cuisine of red sauce joints with a more upscale vibe. It's Little Italy meets Upper West Side. It's Nonna meets your hot WASPy girlfriend. It's comfort, with class.
No dish on the menu emphasizes this more than the D'Raymonds chicken parmesan.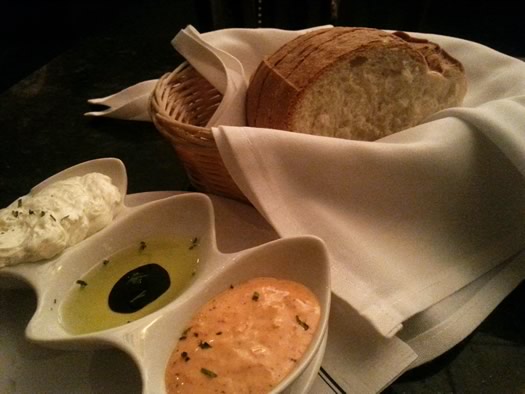 Albany was founded by the Dutch, colonized by the British, and governed by the Irish -- but we eat Italian. It's the culinary backbone of the Capital Region. We have our taverns and steakhouses, and we love them completely. But deep in our eating genes, we find the DNA for thick, rich tomato sauce, generous portions of elastic, chewy mozzarella paired with Parmesan cheese grated right at the table, breaded and fried meat, and, of course, pasta.
And what could be more quintessentially Italian American than chicken parmesan? Sure, you could say spaghetti and meatballs, or a big square of baked lasagna, but chicken parmesan harkens to our intrinsic desire for classic Italian fare.
The chicken parm at D'Raymonds ($16.95 for dinner, $9.95 for smaller lunch portion) is butterflied and pounded thin, though still maintains a subtle tenderness. Breaded in seasoned crumbs with strong flavors of oregano and what tastes like nutmeg, it is pan-fried, then baked, to create a shatteringly crispy exterior that releases bursts of steam and a tempting aroma with each slice of the knife that dissects it. Where the housemade tomato sauce envelopes the crust, it certainly is more soggy, but not in a bad way. The breading is so void of moisture that it only becomes better by soaking in that bath of Ferrari-red sauce.
The entire dish is covered in mozzarella, which flows like slow lava across the plate. For as heavy as the dish is, it somehow maintains a remarkable freshness and vibrancy. If there is a better chicken parmesan in the Capital Region, I've yet to find it.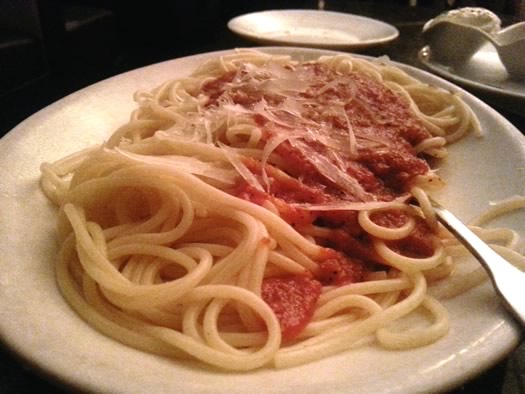 You get to choose between potatoes and broccoli or a selection of pastas when you order the chicken parm. Go with pasta. While it is no longer made in house, it is no less delicious. It's cooked to perfection. On its own, the pasta is enough to be a meal for most, but in comparison to the gargantuan chicken breast on the entrée, it pales.
I'd be remiss if not to mention the bread basket and wine list at D'Raymonds. The bread itself is a prime example of what Italian bread should be, but it is the whipped butter, puckering yet sweet balsamic vinegar, and red pepper tapenade that accompany it that makes it sing.
The wine list is heavily Italian, with a little California and New Zealand throw in for giggles. In a nod to Albany, a Joseph Carr Merlot is on the bottle list for $36. Nothing on the list is priced egregiously high, and the entire wine list seems on-point with similar lists and restaurants in the area. I especially love the split bottles of Prosecco on the list - I know we're "supposed" to drink red wine with red sauce, but I love how the bubbles of Prosecco cut through the palate-coating tomato and cheese.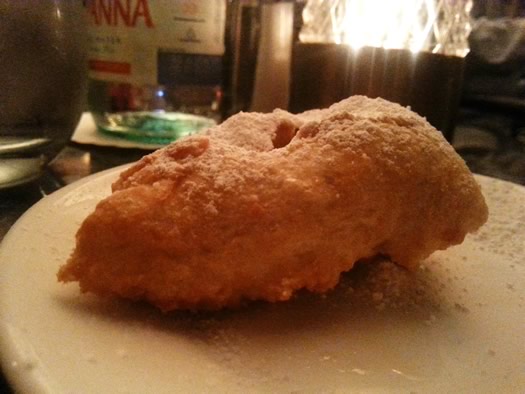 My server brought me a complimentary piece of pizza fritta (fried dough) to enjoy before my meal. I ate half then, half with coffee for dessert. It was doughy, chewy, and fried to perfection. Gilded with a generous coating of powdered sugar, it's only one example of classic southern Italian done with elegance.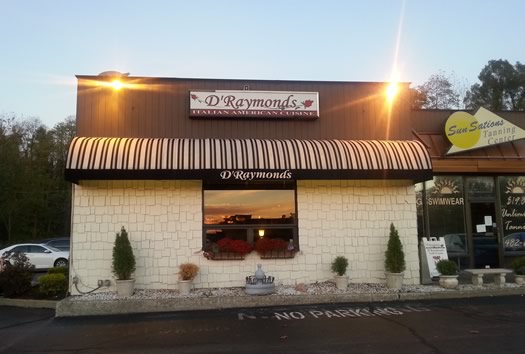 As much as the food draws people to D'Raymonds, the setting will do the same. The location is typical of good dining in Albany suburbs, as it sits in a strip mall where Osbourne Road and Albany-Shaker meet. Don't be discouraged by the rows and rows of BMWs and Range Rovers in the parking lot - inside, people from all walks of life congregate and eat. Yuppie kids, stereotypical Jersey Italians, politicos who have come to Albany for work and seek solace away from the Capitol... it's all here. A family celebrating a teenage son's birthday gathers around a plate of antipasti. An older couple, known by name by D'Raymonds' staff, takes a booth in the corner and are soon greeted by other patrons, as well.
When my Italian-descended Saint Rose roommate first told me her favorite meal was macaroni and gravy, my Central New York vernacular translated that to mac-and-cheese dish smothered in brown sauce. What she meant was pasta with tomato sauce cooked all day with meat. It soon became my favorite, too. I've had the eh-talian food on my travels abroad, and it will always maintain a spot in my stomach and heart, but it's the EYE-talian that roots the Capital Region.
Deanna Fox writes about many things, mostly about food. More can be found on her website, Twitter, or Instagram.

Find It
D'Raymonds
269 Osbourne Road
Loudonville, NY 12211
Say Something!
We'd really like you to take part in the conversation here at All Over Albany. But we do have a few rules here. Don't worry, they're easy. The first: be kind. The second: treat everyone else with the same respect you'd like to see in return. Cool? Great, post away. Comments are moderated so it might take a little while for your comment to show up. Thanks for being patient.