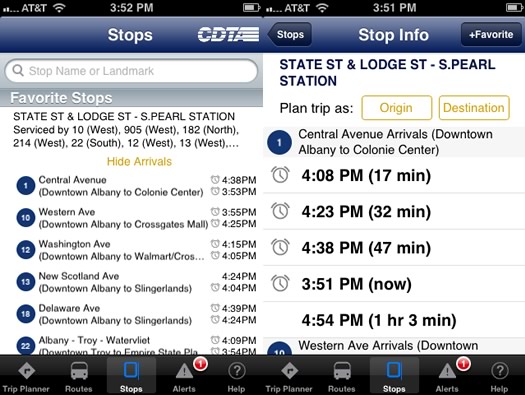 CDTA officially announced today that it's now offering realtime info for regular route bus arrivals.* The functionality has previously only been available on BusPlus. Blurbage:
Customers will be able to access real time transit information for CDTA fixed route services through the free CDTA iride mobile application for Apple and Android devices, through Google Maps' mobile apps and maps.google.com, through the trip planner on its website (www.cdta.org) or by speaking with a customer service representative at CDTA's Call Center. Customers will now see a gray clock icon near a route that indicates real time information is available. Real time is currently not available on Northway Xpress service. ...
CDTA tracks its vehicles using GPS devices to report bus location data back to its servers. This information allows CDTA to estimate when the buses will arrive at a stop. If a bus goes off its regular route, the system may not be able to fully predict accurate arrival times.
Here are screenshots of the realtime info display on both Google Maps and the CDTA website.
As long as the realtime info is accurate, the function is a nice addition. In our experience, some CDTA routes and stops tend to have reliable arrival times -- and others less so. (Yep, we're looking at you #10. We know it's not totally your fault what with all the traffic lights and riders. But you've interpreted the concept of a "schedule" very loosely.)
By the way: If you ride the bus, even just occasionally, and you have a smartphone -- definitely get the iRide app if you don't have it already.
* This function has been at least partially active for at least a few days. Thanks to the person who pointed this out to us last week.
CDTA was a sponsor of the Rail, River, Hudson tour.
Hi there. Comments have been closed for this item. Still have something to say? Contact us.