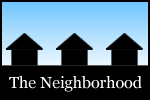 Among the topics in this most recent spin around the Capital Region's online neighborhood: being the village, a wine tour, Taconic Sculpture Park, an autumn trip to the beach, old school, the new Maestro's, smallcheapunique, beloved soup, Mexican Radio, Soul Cafe, the Squirrelly Six, 8-bit fire, and a particular philosophical pickle of living.

Celebrating the birth of a friend's baby, Nicole shared some thoughts on being "the village" for people raising a child.
Christine went on a Seneca Lake wine tour.
Julie checked out the Taconic Sculpture Park.
Randal took an autumn trip to Cape Cod.
Carl surveyed Albany's 19th century schools with photos and locations.
Ashley got a look at the new Maestro's.
Daniel shared a list of "great ethnic restaurants that are small, cheap and unique."
R discovered a beloved soup on the menu at Van's (and it wasn't pho).
It sounds like Jerry had an uneven meal at Mexican Radio in Schenectady.
Lorre urged people to try one of the Soul Cafe community dinners.
Silvia ran in the Squirrelly Six at Thacher Park.
Farther afield: Jen ran the Marine Corps Marathon!
Chuck shared some nice black-and-white photos of local sites, shot on some unusual old film.
Crystal put together a tutorial on how she created the 8-bit "fire" in the fireplace of her Troy home.
Jackie paid tribute to one of her local naturalist friends.
And Amy chewed on a "particular philosophical pickle of living" involving rainbows.
Hi there. Comments have been closed for this item. Still have something to say? Contact us.