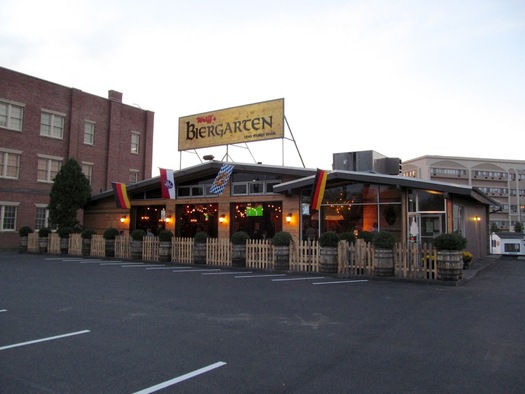 The new new Wolff's Biergarten in downtown Schenectady opens Wednesday around 4 pm.
This Wolff's looks a lot like the Albany location, but it's larger, with three garage doors, more picnic tables, lots of flat screens for viewing soccer matches, and the requisite indoor faux tree. The building has been vacant for about ten years. It started out as a service station and last belonged to KEM cleaners.
If the Erie Blvd location seems strange, Matt Baumgartner says, it is a little.
"I think that's also consistent with Wolff's in Albany, which opened before there was much down in that area. And hopefully it will grow the same way."
Renovations on Erie Boulevard and recent growth in Schenectady were encouraging factors, he says. And the building itself interested him. "It was really affordable, and I love an old, sad building -- and this one was really sad. But I knew you could have garage doors, and having the garage doors is a real asset. People love them."
So with a Bombers and a Wolff's, is there going to be a Schenectady Sciortino's too? Baumgartner just laughs.
"Well, that's a good question. There's an empty building across the street."
After the jump, a look inside Wolff's Schenectady.

Photos are above in large format -- click or scroll all the way up.
Find It
Wolff's Biergarten
165 Erie Blvd.
Schenectady, NY 12305
Hi there. Comments have been closed for this item. Still have something to say? Contact us.