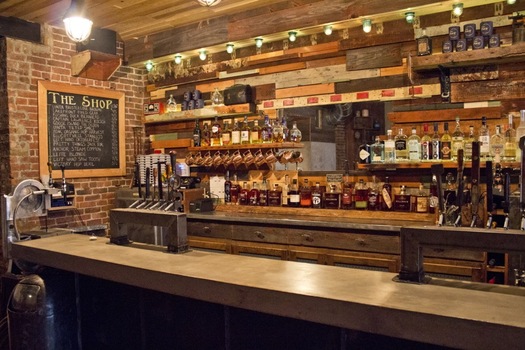 By Lauren Hittinger
This Friday marks the grand opening for The Shop, a new restaurant and bar in downtown Troy. It's the third commercial space to open at the former site of Trojan Hardware along 4th Street and Congress, following the May opening of Rare Form Brewing Co. and the Collar Works art gallery.
Looking to create a neighborhood bar, owner Kevin Blodgett says The Shop will have a "casual atmosphere, with no pretense. We just want people who are going to enjoy good food and good conversation."
I stopped by to talk to Blodgett and his partner Nada Rifai to get the scoop on the restaurant, the building, and how The Shop fits into Troy.
There are photos from The Shop above in large format -- click or scroll all the way up.
How are you different from other places in Troy?
Blodgett: What we're offering here is different in the sense that we are taking what we've learned from traveling around different cities, what we've found on the Internet, and what works in urban locations like this -- and is essentially absent here -- which is raising the bar to a higher standard.
We're offering a lot of small-batch spirits that can't be found most places in town. We're are only putting quality craft beers on tap. We're dealing with a lot of small-scale breweries. Some of them are brand new, and some of them are lesser known.
And with respect to our food, we're not offering burgers, wings, nachos -- none of the standard pub fare. All of it is made in house. There's not a microwave in the kitchen. And everything is made to order. For example, a lot of places around here will offer brisket. It's always barbecue brisket. Our brisket is a French country recipe.
We're not reinventing the wheel, but we are putting our own spin on it. Making it unique. Making it ours.
Rifai: The idea behind the menu was to take really simple ingredients -- no crazy expensive cuts of meat or crazy expensive cheeses -- so it remains at a price people can afford. We're taking simple ingredients and elevating them to the point of sexy and exciting. And the kicker -- because we're not using crazy expensive ingredients -- you don't need to boost the price. It's really fun; it's playful.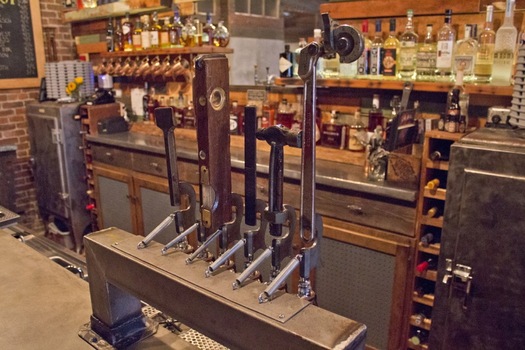 You have a really interesting interior to this space. Tell me about it, and your inspiration.
Blodgett: I'd call it vintage industrial design. About 90 percent of the material in here is reclaimed and reused material, and at least 75 percent of it came from this collection of buildings -- whether it was from the apartments upstairs or stuff from the basement.
All of these materials, most people would have thrown them in the landfill. But with a little bit of extra work, a little bit of skill, and an eye for detail, you can turn them into really cool features in a space like this. We're all about all-natural materials: wood, concrete, steel. There's nothing synthetic, there's nothing manufactured in China.
And what about the wood shop theme?
Blodgett: Coming from a background in carpentry, it was kind of natural for me to want to do a shop-themed space. It's tricky to pull that off without being kitschy or cheesy, so we tried to soften that a lot, but there's certainly an element of old tools and craftsmanship and that kind of thing.
I do have a wood shop in the compound in the back, and we used to have friends over there all the time to hang out by the wood stove, play cards, and laugh and drink. And I just wanted to create that kind of feeling, but open to the public, because people loved hanging out there.
The Shop is only a small part of a larger building that you've been rehabbing. What is your history with this space?
Blodgett: The hardware store [Trojan Hardware] was here for 90-plus years. They started in one of these buildings and over the course of those 90-plus years bought up the adjacent buildings. So this compound, as we call it, was originally seven separate buildings that is now one parcel.
The hardware store occupied the entire first floor and as they acquired buildings they'd just knock through the brick wall and join them together. So since late 2012 we've been in the process of dividing them back up into individual commercial spaces to make them more manageable for today's business climate -- smaller, more manageable spaces.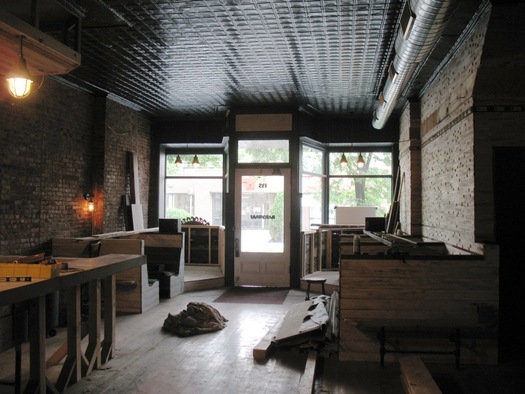 The Shop space back in May 2014 as it was still being renovated.
Why did you buy this building originally?
Blodgett: I must be crazy. It didn't look this big when I bought it...
When I moved back to Troy, I moved back with an interest in architecture and design and rehab and all that stuff. I completed one building and sold it, and I was into my second one when this property became available. And the location is awesome because it's on a corner, so it gets a lot of natural light, it gets a lot of drive-by traffic, and it's on Route 2, which is one of the better-travelled routes of Troy.
It's a little bit on the outskirts of the heart of downtown, but you know, Troy was already coming back then, and it's only continued to go forward and develop and grow. Buildings are being bought and rehabbed all over the place now. Everyone thought I was an idiot back then, but you know...
What else is going on in your compound in the future?
Blodgett: Nada and I are currently trying to get all of the final pieces in place to have The Shop fully functional and not just limping to the starting gate.
I won't use that...
Blodgett: No, we're very public about that. This is our opening menu. We lost our chef a week and a half ago. So we had to pare down our menu to give the kitchen a chance to make it. So far they've been doing great. But you can see from the title -- it's called the "Everything Went Wrong, Shop's Opening Menu."
We're very candid about things not going according to plan. That's small business. Things are going to go wrong, it's just how quickly you can you adapt, adjust, and correct.
____
The 35,000 square foot "compound" has two more undeveloped commercial spaces that are being rehabbed, in addition to seven loft-style apartments that will be available to rent later this year and early 2015. After The Shop is complete, Blodgett and Rifai plan to open a deli and marketplace in the corner space at 4th and Congress.
Currently The Shop will be open 7 days a week, starting at 4PM -- they're planning weekend brunch in the future.
Lauren writes about shopping, crafting, and living well on a small budget at The Thrifty Ginger.
Earlier on AOA: Rare Form Brewing Company
Find It
The Shop
135 4th Street
Troy, NY 12180
Hi there. Comments have been closed for this item. Still have something to say? Contact us.