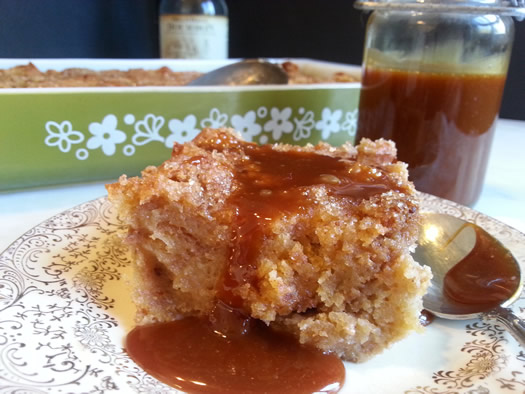 By Deanna Fox
We saw that Deanna had made this for a party and it looked like an idea that needed to be shared. So, we asked her how to make it.
I recently hosted a group of foodies at my house for brunch to celebrate a good mutual friend. Hosting brunch can be intimidating. Hosting brunch for people who seriously know their food? Even more so.
This was no time to hold back. This is when the big kitchen guns come out: the no-holds-barred, all-stops-pulled kind of cooking.
This was the time for cider donut bread pudding.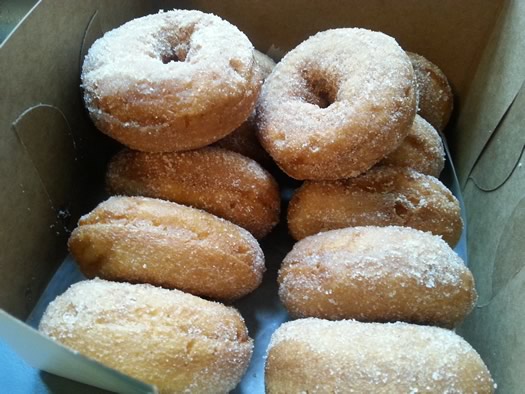 Let's be honest. I could have just put a tray of good cider donuts in the middle of the table, and no one would complain. It's fall in upstate New York, otherwise known as prime cider donut eating time, but when given the chance to gild the donut lily, why wouldn't you?
Yes, why not! That's what I told myself as I scrambled to pull together a brunch menu that would simultaneously impress and not turn me into a frazzled stress ball. I wanted brunch to seem effortless. Cider donut bread pudding made it such.
Chances are good you already have everything in your pantry to make this. And there is certainly no dearth of cider donuts in the Capital Region (nor of bourbon nowadays, if you choose to make the accompanying sauce). The trick here is not to deter from the essence of the cider donut. If you want pecan-studded, chocolate-flecked, or pumpkin-spiced pudding, use stale brioche or croissant. Here, keep it simple and unadulterated, except for, you know, all those eggs and cream.
The result will reward you with a bowl full of cider donut delight. It tastes like a custard donut in the middle, with a crunchy exterior (thanks to the option of adding an extra helping of sugar to the top pre-baking).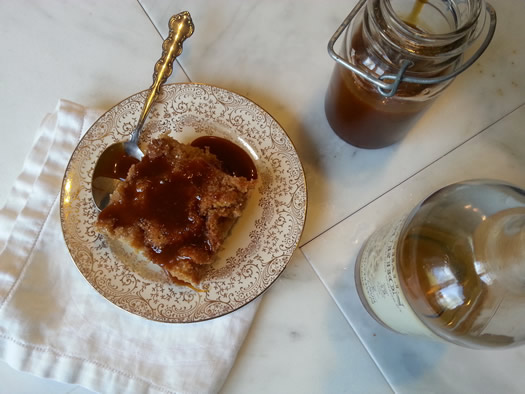 Make this the night before for simpler brunch preparation, or assemble first thing in the morning for Thanksgiving dessert. Better yet, double the batch and slow cook it in a Crock-Pot all day to entice and feed a crowd (soak it, cook it on low for 3-4 hours, or until it is "set").
Cider donut Bread Pudding with Bourbon Caramel Sauce
Serves 10
INGREDIENTS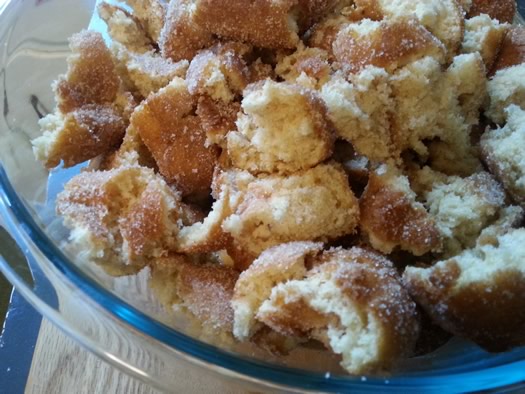 2 tablespoons unsalted butter
12 cider donuts (sugared or plain)
3 cups half-and-half
1 cup whole milk
4 eggs, beaten
1/2 cup packed dark-brown sugar
1 teaspoon pure vanilla extract
1 teaspoon ground cinnamon
1/2 teaspoon salt
1/4 teaspoon freshly grated nutmeg
1/4 cup raw (demerara) sugar
METHOD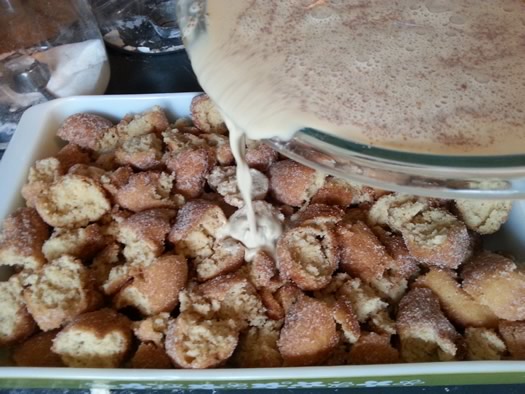 Break up the donuts into chunks and allow to air dry, or place in a 250 degree oven for 30 minutes (the drier the donuts, the more liquid they will absorb and more "custardy" the pudding will taste).
Butter a 9"x13" baking pan, and put the donuts in the pan. Whisk together the half-and-half, milk, eggs, brown sugar, vanilla, cinnamon, salt, and nutmeg in a large bowl. Pour this custard mixture over the donuts in the baking pan, making sure it's coated (push down on it if you need to). Let the pudding sit for about 30 minutes or overnight on the fridge, covered in plastic wrap, so the donuts can fully absorb the milk.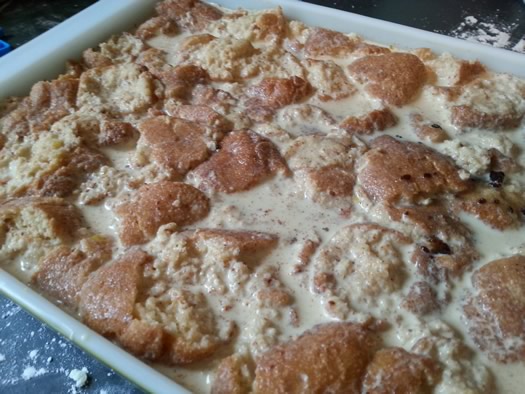 If using the raw sugar, sprinkle it over the pudding after taking it out of the fridge just ahead of putting the pudding in the oven.
After the oven is preheated to 350 degrees Fahrenheit, bake the pudding for 45 minutes to an hour, or until it feels "set" (it jiggles a little but is mostly firm and the liquid is absorbed). It should be lightly golden on top. Remove from the oven and let stand for about 10 minutes before serving, or serve at room temperature.
Bourbon Caramel Sauce
Makes about two cups.
INGREDIENTS
2 cups sugar
1/2 cup water
1 tablespoon light corn syrup
1 cup heavy cream
Strong pinch of kosher salt (about 1/2 teaspoon)
1/4 cup bourbon
METHOD
In a medium saucepan, bring the sugar, water, and corn syrup to a boil over high heat. Cook until the sugar is dissolved, washing down the side of the pan with a wet pastry brush (to prevent crystals from forming, resulting in a "grainy" sauce). Continue cooking over medium heat, without stirring, until an amber caramel forms, about 6 minutes. It might smell like it's burning. Don't worry, that's a good thing! It means the sugar is becoming caramel.
Remove from the heat and carefully stir in the cream (careful, it will bubble and foam). Let it cool for one minute, then stir in the bourbon and salt. Bring the mixture to a boil over moderate heat and cook, stirring, for one minute. Let the caramel sauce cool slightly and serve warm or at room temperature.
____
Deanna Fox writes about many things, mostly about food. More can be found on her website, Twitter, or Instagram.
Say Something!
We'd really like you to take part in the conversation here at All Over Albany. But we do have a few rules here. Don't worry, they're easy. The first: be kind. The second: treat everyone else with the same respect you'd like to see in return. Cool? Great, post away. Comments are moderated so it might take a little while for your comment to show up. Thanks for being patient.