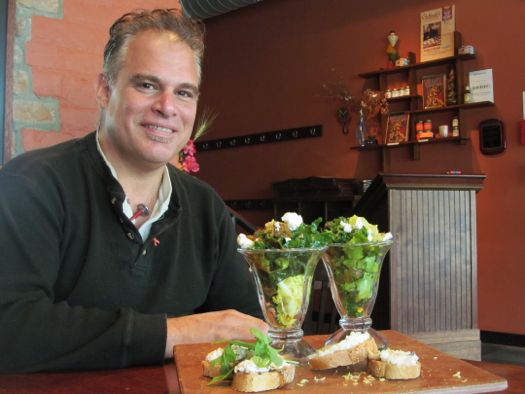 Update x3: The new batch of tickets has now also sold out. Thanks for all the interest!
Update update: New tickets have been released!
Update: The event is currently sold out! But we've arranged for more spots and we'll release them Monday at noon.
Some restaurants have a special table in the kitchen where you can watch the chefs prepare your meal, and maybe even ask a question or two. So why not have a whole party there?
AOA is going to do just that.
New World Catering has a new space on Delaware Avenue with a bar and an open kitchen, and on Thursday, December 4 AOA is hosting a holiday cocktail party there with New World chef, author, and Chopped champ Ric Orlando.
We'll have food, signature cocktails, craft beers and locally-sourced wines. Here's a peek at the menu and how to get tickets.
We'd love to see you there.

Details
Date: Thursday, December 4 at 6 pm.
Where: New World Catering at 250 Delaware Avenue in Albany.
On the menu
+ New World's famous displays of seasonal hummus, baba ghanoush, olives, dolmas, grilled flatbreads, famous blackened string beans and chef's choice tapas
+ A collection of artisan cheeses and Mediterranean salads
+ New World giant pan seafood paella
+ Assorted New World tasting stations
+ Chef Ric's assortment of hot and cold passed hors d'oeuvres
At the bar
+ Titos Vodka signature cocktails
+ Craft beer
+ Locally sourced wines.
Tickets
Tickets for all this (yep, including the bar) are $25.
You can get your tickets here.
See you there.
Hi there. Comments have been closed for this item. Still have something to say? Contact us.