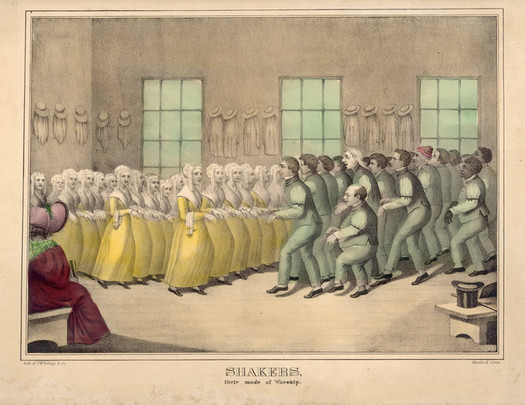 Over the weekend the State Museum opened a "major" new exhibit that could be worth a look: "The Shakers: America's Quiet Revolutionaries."
The exhibit includes hundreds of historic images and artifacts from regional institutions the Shaker Heritage Society, Hancock Shaker Village, and the Shaker Museum | Mount Lebanon. Exhibit blurbage:
The United Society of Believers in Christ's Second Appearing, better known as the Shakers, is the most significant communal religious society in American history.
In the 1770s, the Shakers launched a revolution parallel to that of the American colonists against British rule. As the Shakers sought religious freedom, their spiritual beliefs and communal lifestyle set them in opposition to society. Later their product innovations and marketing skill seemed "revolutionary" to the outside world.
Today, the Shakers are recognized for their tremendous influence on American cultural identity through their social, commercial and technological innovations, decorative arts, and design.
Thematically divided into six areas, the exhibition shows how the Shakers' unique model of an equal society challenged the norms of the "outside world."
As you might know, this region was the site of the first Shaker communities in America -- the very first being the Watervliet Shaker community (on land that's now in Colonie). Influential Shaker leader Ann Lee is buried there.
The exhibit also includes a series of talks, tours, and other events. This Saturday, November 22, there's a free gallery tour with exhibitor co-curator Lisa Seymour at 1 pm.
The State Museum exhibit runs through March 6, 2016.
image: D. W. Kellogg and Co. / New York State Museum