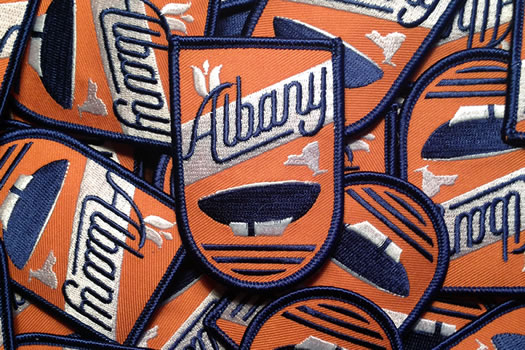 Mitch sent this along and we thought it was fun: It's an Albany patch -- like, the kind of patch you can sew on things. He explained:
Over the course of the past year or two, I've been on an occasional (but ongoing) search for an embroidered Albany souvenir patch. I came to the conclusion that we somehow live in the only city in the entire country that DOESN'T have one of these that can be purchased with 2 clicks of a mouse or a trip to a store.
I decided to take the task on myself. I'm a designer at a local agency, so it sounded fun anyways.
Mitch is selling them online -- they're $6 each.
We asked him if he had any specific applications in mind for the patch. His reply:
Honestly, the only real application I really had in mind for the patch was to put it on MY jacket. I think that part of the beauty of something like this is that everybody can, if they want to, figure out their own application for it. Like I said though, it's really just something that I couldn't believe didn't already exist, especially considering the local pride that Albany residents have.
Hi there. Comments have been closed for this item. Still have something to say? Contact us.