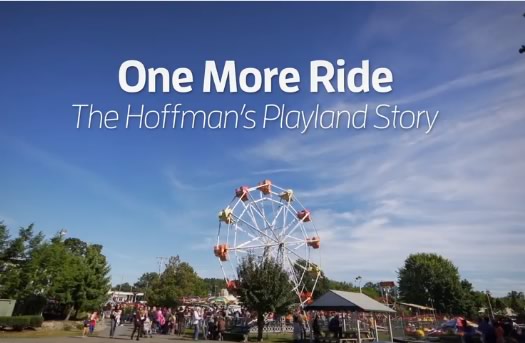 WHMT has scheduled premiere dates for a few local documentaries that a lot of people will probably interested in:
One More Ride: The Hoffman's Playland Story
Pretty much what it says on the label:
"One More Ride: The Hoffman's Playland Story" captures the history of the beloved family amusement park. For 62 years, it was where we brought our children to play and to celebrate birthdays. We rode the roller coaster and merry go round. It was a tradition of smiles and laughter for generations. And while this past season was its final one, WMHT will provide viewers with one last ride as we celebrate the history, nostalgia and memories of Hoffman's Playland. We'll meet the Hoffman family whose long-standing devotion, work ethic and continuous attention to detail and perseverance made the park what it was. It will all come to life through original videography, archival photos, home movies, behind the scenes video and emotional on-screen interviews.
It's set to air on November 29 at 9 pm. (It will also be streamed online.)
The Neighborhood that Disappeared
This is the doc by Mary Paley about the neighborhood knocked down for the Empire State Plaza. (You might remember the Kickstarter for the project.) We get the sense it's very much from the ESP-skeptic perspective. Blurbage:
In 1962, one of the most massive urban renewal projects in American history sterilized the cultural and ethnic heart of Albany, New York. An arrangement made by first term Governor Nelson A. Rockefeller and longtime Albany Mayor, Erastus Corning the 2nd, displaced almost eight per cent of the City's diverse population, razed more than a thousand buildings, dislodged 3,600 households, and closed 350 businesses.
Tune in as 'The Neighborhood That Disappeared' unearths the vibrant ethnic neighborhood that housed courageous immigrants and the Greatest Generation. More than a half-century after it was lost forever; we'll revisit 'The Neighborhood That Disappeared.'
The doc is set to air December 12 at 8 pm.