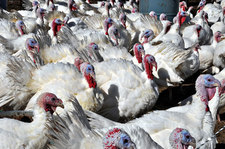 T. emails:
I was told at ShopRite today that I've qualified for a free turkey. I don't want it myself, but I was wondering if I should pick it up and drop it off at a food pantry or shelter. Seems like there are probably other people in my position too - how about a roundup of places to donate them, how and when etc? My receipt says to get it from ShopRite between 11/16 and 11/27.
We were just thinking it'd be great if these supermarket chains would allow you to designate your free turkey or ham or whatever to be given to charity directly.
Got an idea for T.? Please share!
Hi there. Comments have been closed for this item. Still have something to say? Contact us.