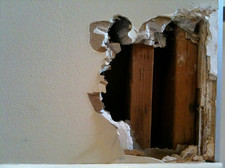 Sean emails:
I live in Albany and have an upcoming renovation project and would love nothing more than to pay someone else to do the drywall work. In the past, my wife and I enjoyed learning + doing it the first time, grumbled our way through it the second time... and are now loathing the prospect of having to do it a third time. Would any of your readers happen to know a person or company they could recommend that might be able to spare us from this misery and gladly take our money??? Please please please!
Sometimes the lesson of a DIY project is that you shouldn't do it yourself. And there's nothing wrong with that.
So, got a suggestion or advice for Sean and his wife? Please share!
Hi there. Comments have been closed for this item. Still have something to say? Contact us.