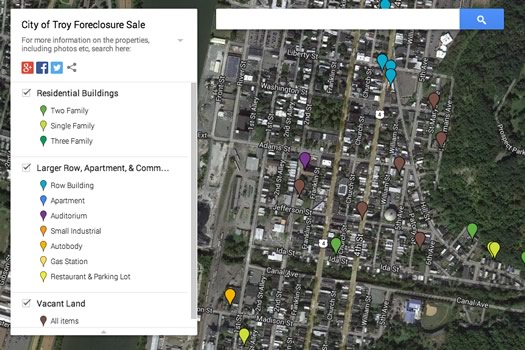 The city of Troy currently has more than 140 foreclosed properties up for potential sale. The city is accepting sealed bids on the properties -- many of which are vacant land -- between now and December 19.
Here's the list of properties as a pdf. But here's a better way to browse them: a clickable map of the properties along with some of their associated information. (We've also embedded the map after the jump.)
The map is the creation of Anasha Cummings, who was prompted to make it because, as he said to us in an email, "I don't think a PDF on a website is a good way to browse for properties you might want to buy."
Cummings says he's currently in the process of filling in some of the holes in the list (some properties don't have exact addresses) and matching up the properties with more information about them from the city's real property database (important info like square footage, even a photo).
This situation highlights an issue that's frustrated us for a long time: local municipalities often post information/data in ways that make it hard to find or use.
In this case, the property list was in a pdf (so it has be extracted, often not easy) and the city's real property database (which has a lot of interesting info) makes it hard to pull data from it.
As Cummings commented to us via email: "For example, if the existing data sets were open, one could write a
program that takes a list of tax parcel IDs like the sale list and uses the GIS database to make a map and the Real Property Database to populate all of the data automatically."
Why should a city go to the trouble? Well, on a philosophical level, this data belongs to the public and making it hard to use it is like building a park with a fence all the way around it. But there are practical reasons, too: It makes it easier to find and do stuff! And this case, that would be making it easier for people to find a property they might be interested in buying. And Troy could really use property buyers, because it's seriously scraping for money right now.
Another practical reason: There are tech-savvy, civic-minded people who can and want to help! We know of at least two such people who looked at this list, figured it could be better, and did something about it. Cummings is one -- Tim Varney is the other, here's a map he sent us.
Taking steps to make public information more accessible will require some effort on the part of municipalities, especially at the start. But it might be easier than people imagine. Some of the tools available -- like Google Docs and Fusion Tables -- have become so easy to use that someone with even just a little bit of training can create something useful.
And a possible side effect of opening up this sort of information: It gets more people involved, which can also be a good thing.
Again, from Anasha Cummings:
[H]aving been through the purchase process once before, and watched it for a while, I have a few thoughts on that too. Primarily: what is really needed is to stop treating these buildings like an episode of storage wars, and make a reasonable assessment of the structural and interior state of the buildings available to people before they buy them. Even if "showings" aren't possible with current staffing, we should be adding a sale fee onto every building that is enough to pay for a basic assessment and documentation of the current state and potential. The current system favors insiders too much. Not just in the relative inaccessibility of the information, but also in the bidding process.
Land bank: Another related bit to the foreclosed/abandoned property issue: The Troy Land Bank started up this week. It's one of handful of such orgs that have popped up around the Capital Region recently -- Schenectady and Albany County both have one, as well. They're aimed at acquiring abandoned/foreclosed properties and shepherding them back onto the tax roll. [TU]
These banks are a different approach to the problem -- it will be interesting to see if they can make any progress.
Hi there. Comments have been closed for this item. Still have something to say? Contact us.