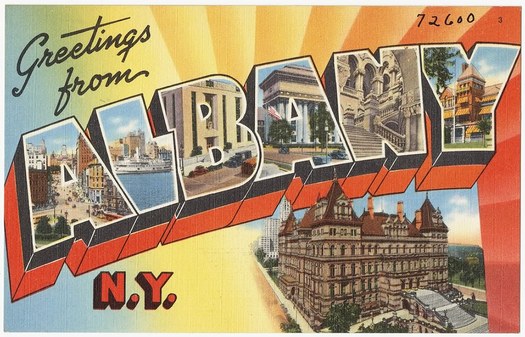 The annual Albany Antique Postcard Show is set for December 6 at the Polish Community Center on Washington Ave Ext in Albany. Blurbage:
Over 1 Million Vintage Postcards on display and for sale at the 4th Annual Antique Postcard show held at the Polish Community Center in Albany New York. Dealers from 5 different states will be set up with cards from all over the world. Collectors will come from all over the east coast to look for every subject imaginable. Small towns from all over New York state, over 100 years old. Free appraisals on location.
The company behind this show is Mary L. Martin Ltd. Postcards, which has an interesting backstory -- one that started in Albany. As the story goes, the eponymous Mary Martin was living in Albany during the 1960s when she got interested in postcards via her husband's stamp collecting hobby. Martin started collecting and trading the cards, and that eventually turned into a job for her and later a family business. (Along the way the Martins moved to Maryland.) Mary Martin died in 2001, and the business is now run by Martin's daughter, also named Mary, who grew up in the family business. It has a 10,000-square-foot warehouse in Maryland and claims the world's largest collection of postcards. [Baltimore Sun] [Baltimore Magazine] [Baltimore Sun x2]
The postcard show at the Polish Community Center is from 9:30 am-3 pm on December 6. Admission is $3.