By Daniel B.
We've enlisted Daniel B. to survey Capital Region donuts -- and pick his favorites -- for a short series called "The Best Dozen."
Donuts are a special treat. Given the ubiquity of that one regional orange and pink chain, sometimes we forget that.
At Park Side Eatery, donuts are only available on Friday, Saturday and Sunday. The flavors also change frequently, typically offering between 10-15 varieties on any given day. So all of the donuts sampled on a recent visit may not be available when you go. And they don't make a ton, so popular varieties often sell out by noon.
Still, by going to the shop and sampling one of every donut on the rack, it is possible to learn how to cobble together the best dozen.
About the shop
First, they call them doughnuts. Park Side Eatery also has a funny name for the sweet side of their business. It's called the Glazed Bäckerei (German for "bakery"), and what they make there comes from old family recipes.
The bakery side of the business is tucked away along the northern wall of PSE. However, Michael and Heidi Hoyt have liberated the donuts from the case and have placed them in an open rack by the register, making them even harder to resist.
The mixed dozen
Note: On my visit, there were only ten varieties available, so I had to double up on two.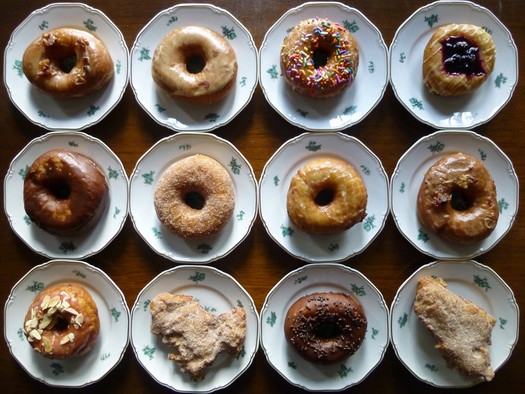 Column by column, starting on the left:
Yeast, Maple Bacon
Yeast, Chocolate Glazed
Yeast, Raspberry Glazed with Almond /
Yeast, Maple Glazed
Yeast, Cinnamon Sugared
Specialty, Apple Fritter /
Yeast, Vanilla Glazed with Sprinkles
Yeast, Vanilla Glazed
Yeast, Chocolate Glazed with Sprinkles /
Filled, Lemon Blueberry
Yeast, Maple Bacon (duplicate)
Specialty, Apple Fritter (duplicate)
The best of the bunch
Maple Bacon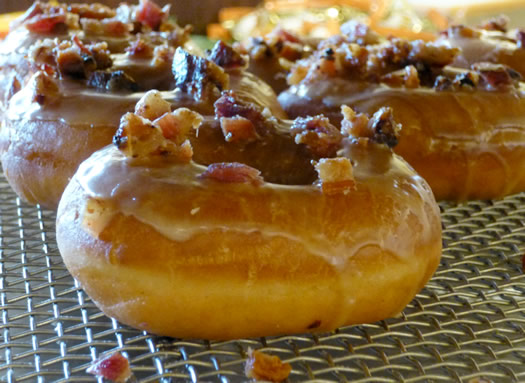 Wow. This is like a pancake breakfast to go. PSE makes a denser style yeast raised donut. It's hearty, so expect a bit of a chew. The interior taste and texture reminded me more of a rich challah than anything cake like, although there is a hint of nutmeg. Specimens with textural contrasts like the well cooked bits of bacon really stood out. And the crisp maple glaze is a classic foil to the salt and smoke of everyone's favorite breakfast meat.
Apple Fritter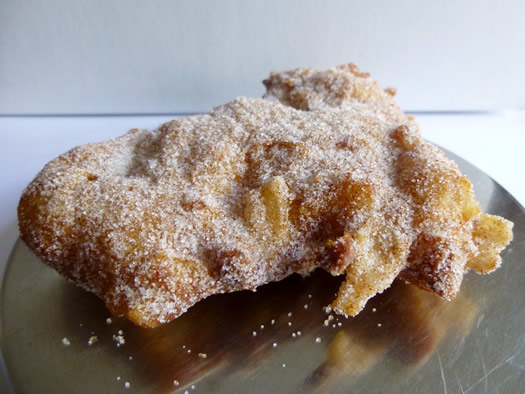 Technically, it's not a donut. Yet there it is on the donut rack, ready to be packed into your dozen with no premium. Look for versions of this freeform fried dough with crispy bits around the edges. Because those are amazing. Soft slices of apple are almost creamy pockets of joy. And the cinnamon sugar topping makes it a classic.
The solid choices
Raspberry Glazed with Almond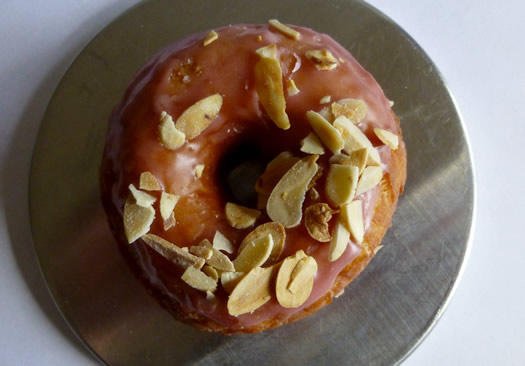 They're toasted. Those slivered almonds aren't just there for show. The added crunch and flavor that comes from exposing these nuts to heat makes the donut. Well, that and the fact the raspberry glaze is bright with raspberry flavors and creates a harmonious balance between all the elements.
Maple Glazed
The aroma of maple wafted out of the donut box, and this glaze brings the flavor too. Don't like pork? Can't stomach the idea of bacon on a donut? Then this is the donut for you.
Lemon Blueberry Filled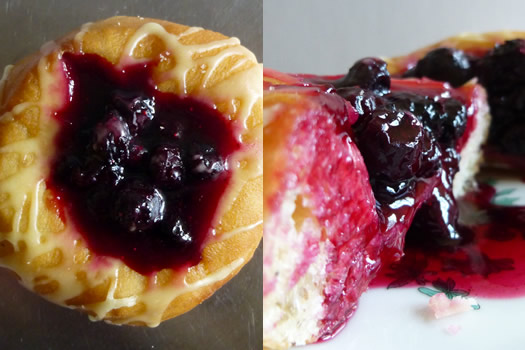 Or should that be topped? This is more like a bialy than a donut given that its filling is placed in a divot pressed into the center. Regardless, whole blueberries are present in what is more like a blueberry compote than a jelly. The lemon glaze could use a bit more lemon flavor, but with all the blueberry, I doubt anyone notices.
Cinnamon Sugar
There are lots of varieties of cinnamon. Some are fruity. This one is warm. And the cinnamon sugar topping has good coverage and adhesion to the donut itself. Is it messier than a glazed donut? You betcha. But it has great flavor, and the sugar crystals bring an added crunch.
The disappointments
Vanilla Glazed with Sprinkles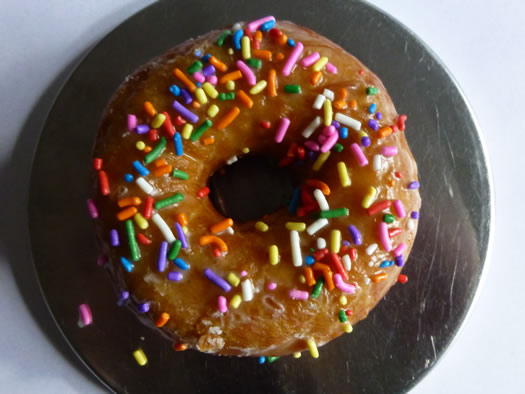 That's one pretty donut. Looking at it just makes you happy. Eating it is another thing. If it's called vanilla, it should have a more dominant vanilla flavor. Plus the glaze could be thicker.
Chocolate Glazed
This sweet topping doesn't have a lot of cocoa flavor and finds itself taking on a secondary role in the donut.
Vanilla Glazed
Ditto. Except without those nice things to add about its joyful visage.
Chocolate Glazed with Sprinkles
Maybe the chocolate sprinkles will add more chocolate flavor. That was the hope. But the reality fell short. If anything the donut is now more redolent of the chocolate flavor found in chocolate licorice.
The best dozen at Park Side Eatery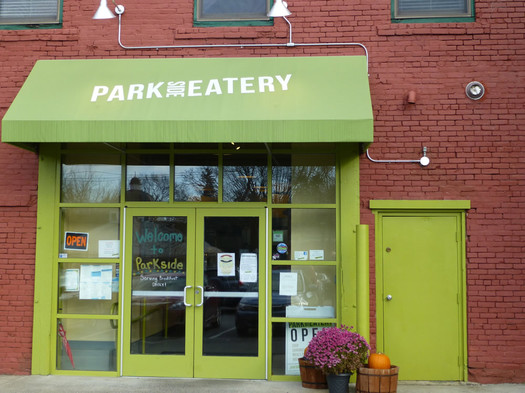 3 Maple Bacon
3 Apple Fritters
2 Raspberry Almond
1 Maple Glazed
1 Cinnamon Sugar
2 Blueberry Lemon
There seem to be two guiding principles to find your way to the best dozen at PSE:
1) How does it sound as a pancake?
2) Does it offer any textural contrast?
Go with the flavors that satisfy those two criteria, and you'll walk out $12 lighter, but carrying a box of well-crafted, freshly-made donuts from a place that makes them like they used to.
In fact, they may even make them better, because I doubt anyone was putting bacon on donuts back in the day.
Daniel B. is the proprietor of the FUSSYlittleBLOG.
Earlier on AOA: The Best Dozen: Bella Napoli Troy
Find It
Park Side Eatery
42 Phila St #1
Saratoga Springs, NY 12866
Hi there. Comments have been closed for this item. Still have something to say? Contact us.