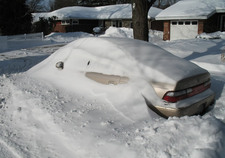 The annual Siena holiday poll included two (well, three) winter questions this year:
As you think about winter, which of the following two statements is closer to your opinion
I dread it. The holidays may be enjoyable, but I can't stand the darkness, the cold and the ice and snow take a toll on me - 36 percent

It may be cold but it is a special time of year. I look forward to winter sports, sitting by a fire, catching up on reading, putting on my winter clothes and all the holidays and events the season provides - 60 percent
And thinking specifically about snow, would you describe yourself more as
Someone that gets excited about snow coming and looks forward to enjoying the related activities and its quiet beauty - 43 percent
Someone that figures out how to endure it, get it cleared away and wouldn't be upset if we had very little of it - 55 percent
The only demographic group that include majority excited about snow (beyond the margin of error): households with kids.
Oh, and that third winter question asked people how much snow they thought we'd be getting this winter. Considering that trained meteorologists have trouble with that question, maybe they should have just asked people to pick a number between 1 and 100.
SRI says the poll was conducted November 3-17 and has a margin of error of +/- 3.4 points.