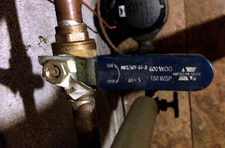 Shawn emails:
First Thanksgiving in the new house and the main water shutoff in the basement started to leak. It is a slow leak at the moment and a bucket has doing the job. Wondering if any readers have had experiences in Albany with having the water shutoff at the curb box to repair the main water shutoff? I called the City and was told that I would be responsible for any repairs of the curb box shutoff if there are any issues when the water is turned off.
Old house, snow on the ground, cold temperatures . . . the price tag I'm envisioning is increasing as I write this if we run into any problems. Any experiences, thoughts, or suggestions would be greatly appreciated...
This kind of stuff can be complicated (see an earlier question about a sewer problem), expensive, and stressful.
Got advice for Shawn? Please share.

Hi there. Comments have been closed for this item. Still have something to say? Contact us.