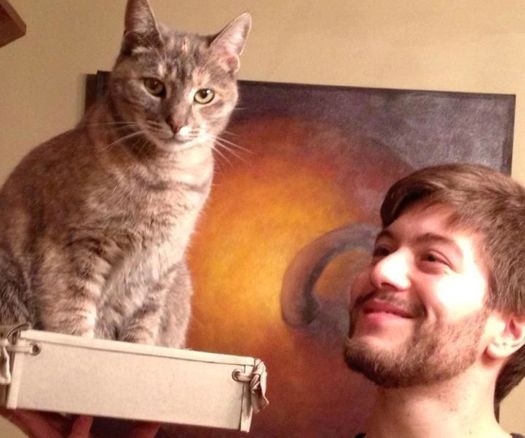 Gifts and giving are on most everyone's mind this month. So we thought we'd ask a few people to share some thoughts on presents, past and present.
First up: Lecco Morris.
Lecco grew up in the Capital Region and, after several years in New York City and a year traveling Europe, is now one of the administrators of The Chefs' Consortium, which gets chefs involved with helping people learn about local food. He is also a talented jazz pianist, poet, and actor.

What gift would you like to receive this season?
I love upstate New York because of the seven bone-chilling months that force many to flee in the winter.
This past year I got into hiking and ice climbing but without the proper equipment, which narrowly straddled the line between exhilarating and idiotic. Ice axes and crampons would be the only material gift I can think of that I would be gleeful to receive. I'm much more into handmade presents than purchased ones, but reducing the risk of death in the Plotterkill this season seems to be a good argument for occasionally hoping for something that can only be purchased (or can it?).
What gift would you like to give?
This is a trick question -- it's like asking "What's the smartest answer to the question?" without knowing the question. Depends entirely on the person. I can think of someone who would most love an hour back massage. Another who would love a personally compiled collection of poetry. Another who would love the gift of a piano performance at an upcoming birthday party at their house.
It's about how you fit the gift to the person. I think people love to feel not just that you care about them but that you know them, too.
What charity would you like to support?
I would want the best world-improvement bang for your buck with charities. I think that Heifer International hits the nail on the head -- gifts of farm animals to families and communities that can develop sustainable businesses and practices and systematically pull whole communities out of poverty. This addresses ecological and human needs on a personal, local scale -- the ripple effect of Heifer's work has been incredible to watch.
What was your most memorable holiday gift from childhood?
My best friend growing up was a cat I named Mouse. He came to me and my sisters on Christmas morning with his sister, Squeak. She hid behind the radiator. He jumped onto my shoulders and purred into my ear. There can be no better gift for me in my life than that cat.

Hi there. Comments have been closed for this item. Still have something to say? Contact us.