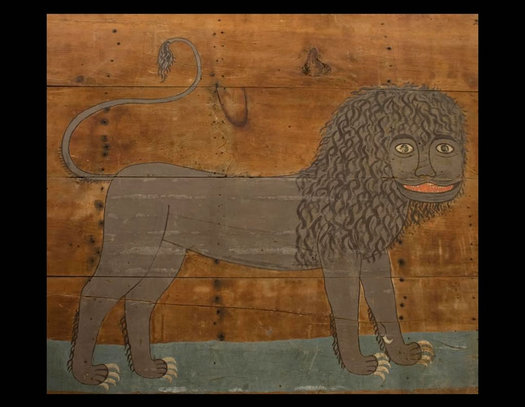 The artwork above -- known as "The Poestenkill Lion" -- is now on display at the Rensselaer County Historical Society. It's a sharp turn of fate for artwork -- it was almost firewood a few years back.
From an RCHS press release:
The lion first came to RCHS in 2011, when long-time RCHS supporters Hughes and Eva Gemmill donated this delightful painting. The painting, which dates to c.1840 and is by an unknown artist, is done on four wide boards, thinly painted with milk paint on unfinished wood.
Discovered a number of years ago during the demolition of a summer kitchen in a house in Poestenkill, the lion was almost lost to history. The dismantled wood was slated to be used as firewood. Thankfully, before these four boards were burnt, the Gemmills noticed a bit of color peeking out from underneath layers of plaster and wallpaper. After some careful removal of the plaster and wallpaper, the complete image of the lion appeared.
The Gemmills did find evidence of at least one other animal. RCHS also has in its collection the small fragments of wood that depict another animal, possibly a leopard, which came from the same space. It is possible that there were more animal figures on other boards that did not survive.
Once the Gemmills had the complete painting of the lion, they hung the four boards over their bed, until they decided to donate the painting to RCHS.
RCHS says the lion is probably based on an illustration from a Bible or maybe the work of Edward Hicks. The artist is unknown.
The historical society got a $2,500 grant this year to restore the work, and sent it to O'Connor Art Conservation in the Berkshires for cleaning and repair.
image: Rensselaer County Historical Society
Hi there. Comments have been closed for this item. Still have something to say? Contact us.