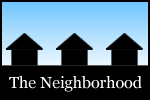 Among the topics in this most recent spin around the Capital Region's online neighborhood: The Neighborhood That Disappeared, the Dead Frog Circus, things Albany to go, Stewart's signage, Tavern Noodle, sliders, crawfish, Burger 21, sushi, dim sum, pizza subconscious, creative photography, tracks, warding off snow, and the proverbial chill pill.

Silvia attened the premiere of The Neighborhood That Disappeared.
Julie visited The Dead Frog Circus in Holyoke, Massachusetts and then stopped at Nudel in Lenox for dinner.
Daniel wondered about things representative of Albany that he could take for people he's visiting in other cities.
Mr. Dave put together another gallery of Stewart's signage.
The Fuj shared some pics and thoughts from the Tavern Noodle pop up.
Jeff stopped into the new Slidin' Dirty restaurant.
The Chopsticks Optional crew fell in love with the crawfish sandwich at Parish Public House.
Jerry tried out Burger 21 in Latham.
Zena went to Asian Tea House with the Albany Sushi Meetup.
Albany Jane got dim sum at Hong Kong Bakery and Bistro.
Steve asked people about kitchen closing times.
A trip to Restaurant Depot spurred Jon's pizza subconscious.
Chuck engaged in some more creative photography.
Jackie examined tracks in the snow and slush along the Hudson.
Rob bought a snowblower -- we're now saved from snow.
And Christine took "a proverbial chill pill" for her 30th birthday.
Hi there. Comments have been closed for this item. Still have something to say? Contact us.