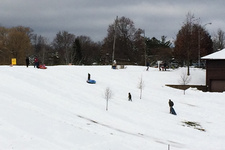 Christina emails:
Where are the best sledding hills? I know of the public golf courses in Albany and Troy, and there's another hill (privately owned by a family southwest of Albany?) but how about something further north in the Saratoga region?
I'm itching to grab a lunch tray and feel like a little kid again!
This topic came up a handful of years ago, and there were handful of answers that pretty much all focused on Troy and Albany. In part, we suspect -- because they have some good spots, like Capital Hills in Albany and Frear Park in Troy (as Christina mentions).
Got a suggestion? Please share!
Hi there. Comments have been closed for this item. Still have something to say? Contact us.