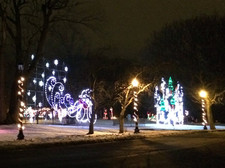 Paul emails:
Have you ever done a story on good neighborhoods in the Capital District to view holiday lights? I know there is the Washington Park Lights, but I think there are specific neighborhoods that go over the top. My 10 yr old son loves to see the lights and was going to do some cruising this weekend with him.
There was an Ask AOA question about this years ago with a few suggestions. But things change. Some people get realllly into Christmas. Others fall out of it. So it seemed like a good time to pick it up back.
Got a suggestion for good holiday light display -- specific house, neighborhood, or street? Please share!
Hi there. Comments have been closed for this item. Still have something to say? Contact us.