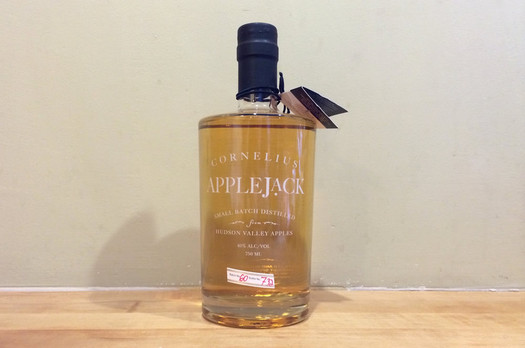 By Deanna Fox
We're into the stretch run for December holidays, so we asked Deanna for a few stocking stuffer-type local food gift ideas.

Stockings are my favorite part of Christmas morning. In my family, you are not allowed to open any presents until everyone is awake and in the living room, around the tree. Stockings, however, are fair game. As soon as you wake up, you can tiptoe to the mantle, un-hook your stocking, and dump out all the goodies that are crammed deep into the toe.
Here are some local treats I'm hoping to find in my stocking this year.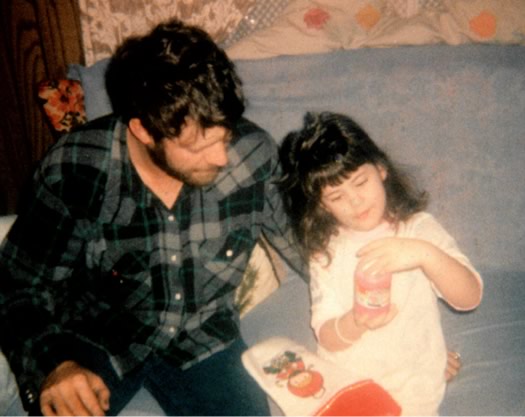 Deanna and her dad, Darryl.
My parents had me when they were very young and pretty much broke. Our stockings were very small (compared to the ogre-sized stockings that you can find in stores today). My mom and dad worked very hard to build a great life for my family, but we still use the same little threadbare stockings to remind us of what Christmas is really about (family and kindness, not stuff).

My mom's family is really big -- there are 10 kids between my mom's parents, but there are an additional seven step- and half-siblings -- and is now five generations deep. We all get together for every Christmas, no matter what. My aunt Laura has hand made a stocking for every member of the family -- including spouses -- and they line the walls of the Town Hall each year. (There isn't a house in the family large enough to house all of us.) Without fail, the stockings are always there.

Since eating is my favorite thing to do, my ideal stocking would be filled with food!
A box of dark chocolate cherry cordials from Krause's Candy ($14)
I once toured the production room at Krause's Candy on Central Avenue (Colonie), and owner Tom Krause let me pluck a just-made cherry cordial right off the line. It was love at first bite. Cherry cordials remind me of holidays with my grandfather, Papa Howard, where we would sit on the couch and eat a whole box together - he would eat the cherries, I would eat the chocolate, we'd split the syrupy middles.

Beef jerky from Damn Good Foods ($11.50)
Having something savory to offset all the holiday sweets is a must-have. The spicier, the better. This option from Stillwater fits the bill.

Cornelius Applejack from Harvest Spirits ($47)
I don't need to explain why I want this spirit made from apples by Harvest Spirits in Valatie. If you've had it, you know, and I'm guessing you've all tried it by now. Just... gimme.

Peppermint Pig from Saratoga Sweets ($17)
I am ashamed that I have lived in the Capital Region for a decade and still have not had a Peppermint Pig, made in Saratoga. Make sure it's the one with the little hammer to bust it open. This is "pork" even vegans can get behind.
A box of oranges
Alright, alright, I'll concede that oranges are not really local. But at Town Hall Christmas with my mom's family, everyone gets an orange in their stocking. Some years, that's all that was there. But they were always the sweetest oranges we'd eat all year.
If you poke around the produce sections at the Capital Region's expanding range of supermarket options there's a good chance you'll find a variety of different citrus fruits this time of year, including some varieties people might not have tried before -- from Meyer lemons to blood oranges. And if you're just looking for classics, WF Ryan's in Albany has navel oranges for 39 cents each, or you can get organic oranges at 3 for $2 at Honest Weight Food Coop.
A really good orange can be a sweet memory, and a little bit of sunshine during the cold months.
Deanna Fox writes about many things, mostly about food. More can be found on her website, Twitter, or Instagram.
Hi there. Comments have been closed for this item. Still have something to say? Contact us.