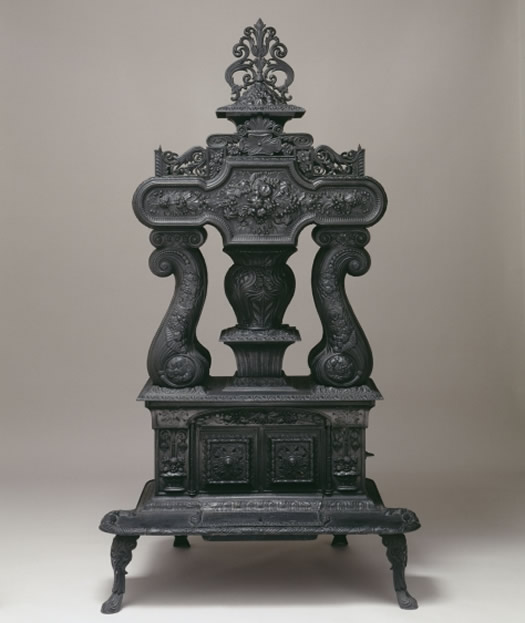 Historical object gawking: We came across this photo of a 19th century stove in the Albany Institute collection. It was made by a Troy company -- Johnson, Geer & Cox -- based on a design by Troy resident Ezra Ripley, probably around 1844. At the time it was advertised as as a "cheap and beautiful article for offices and parlors."
It's a gorgeous object -- as a stove, or even as art. The Google Cultural Institute viewer allows some very close closeups of the details.
From the Albany Institute description:
Cast-iron stovemaking reached its highest level of artistic achievement and technological advances between 1840 and 1870. Stove designers borrowed from architectural and cabinetmakers's design books, bringing Greek, Roman, Gothic, Egyptian, and Rococo revival motifs, along with patriotic symbols and lavish floral designs, in stoves. The technical design of this column parlor stove included a small rectangular firebox to which were connected four vertical flues (or columns). All were connected at the top by a horizontal pipe or second chamber. The increased surface area and greater air circulation of this design enhanced the amount of radiated heat.
Troy and Albany were prominent centers of the stovemaking industry during the 19th century, with hundreds of stove manufacturers trying to stake out a spot in the marketplace over the century.
Sometimes it's easy to romanticize the past and look past its negatives. Sure, there were gorgeous parlor stoves -- but they were often manufactured by people working in terrible conditions. And there are so many things -- in terms of people's rights, technology, and so on -- that are so much better now compared to then (even if there's still room to improve). But objects like this stove were made with a certain flair.
photo: "Four-Column Parlor Stove" via Albany Institute collection
Hi there. Comments have been closed for this item. Still have something to say? Contact us.