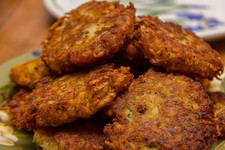 Xina emails with a seasonal question:
Where can I get some excellent latkes in the Capital region? I have had no luck making good ones on my own, but I would love to eat some. :)
We get the sense that latkes tend to fall into the category of "foods people usually make and eat at home" -- in part because it's a holiday thing for a lot of people. But there's gotta be a place in the Capital Region that Xina get score some good not-made-at-home latkes. Or maybe you can share some advice on how she can make good ones at home.
Got a suggestion? Please share!
photo: Flickr user Sarah and Jason (CC BY-SA 2.0)
Hi there. Comments have been closed for this item. Still have something to say? Contact us.