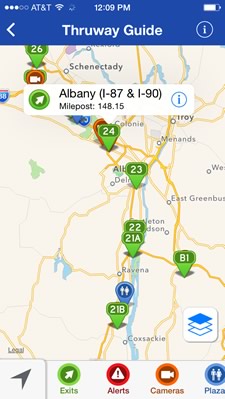 Might be worth a look: NY Thruway Guide, an iPhone app that's pretty much what it sounds like. It provides access to the lineup of Thruway exits and travel plazas, along with alerts and more than 150 traffic cameras.
We tried the app out today for a few minutes and it's smooth. The listing of travel plazas (including what amenities are at each plaza) and easy access to traffic camera pics could be helpful. It also lists the parking pull-off areas between plazas, which is nice.
A few things could be better. One that stuck out to us: The listings for nearby places at each exit -- which look like they're pulled from Google -- weren't great while we sampled local stops. An example: The first restaurant listed for Exit 24 -- the 1-90/I-87 interchange -- was the Albany Pump Station, which is more than five miles away. It'd be great if the app could incorporate more sophisticated food/place listings.
NY Thruway Guide is 99 cents, and currently only available for iOS. The app's creator -- Dan Wheeler, an Albany native who now lives in New Jersey -- tells us via email that he's looking into making an Android version.
Hi there. Comments have been closed for this item. Still have something to say? Contact us.