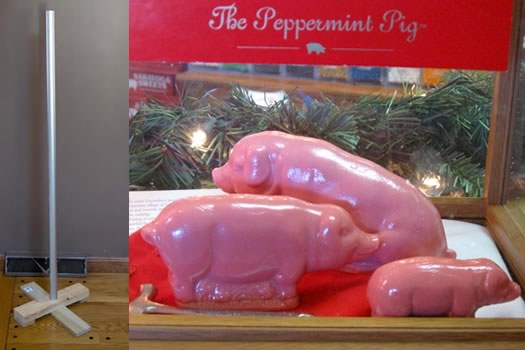 The drawing is now closed! But if you'd still like to air your grievance, please do.
Once again we're celebrating Festivus with a traditional Airing of Grievances.
So, what are your small annoyances, complaints, or frustrations?
Gather round the unadorned aluminum pole, let it rip, and let it go. You'll feel better. And it's good to get it out before facing your relatives and that one uncle who gets all his news from Facebook shares and email forwards.
But here's the deal: grievances can not include personal attacks, nastiness, or creepiness. (You'll know it when you see it.)
To balance the bitter with the sweet, as is tradition, we will give Peppermint Pigs to two people who air their grievances in the comments. The winners will be picked randomly.
The Editors have begun the Airing with their grievances, after the jump. We're looking forward to hearing yours.
Merry Festivus.
Important: To be eligible for the Peppermint Pig drawing, your comment must be submitted by 5 pm on December 23, 2014. You must include a working email address (that you check regularly) with your comment. Normal commenting guidelines apply. One entry per person, please. Winners will be notified by noon on Wednesday and must respond by noon on Monday, December 29.
Mary
Coming up with new grievances was tough this Festivus. I guess that is a good thing. But it seems year after year the same stuff gets to me.
Flaming
It's so easy to lash out about a person or a situation when you can't see their faces. It's disappointing to see people use social media as a way to belittle or break down others instead of a way to build them up and make things better. Sure, tell the truth, but can we tell it nicely, and with sensitivity.
Hours?
I see a lot of shows in the Capital Region and it's frustrating when you want to get a drink or something to eat afterward but the kitchens are all closed. I have sympathy for the staff and owners, and I understand why many close down early. It would just be nice.
Sidewalks
We live in Upstate New York. Snow happens. Please shovel.
Also, where is my flying car?
Greg
This has been yet another year in which events have demonstrated just how small these complaints are, but for the sake of the Festivus spirit...
Forcing people to use the drive-thru ATM
It irks me that some banks force you to use the drive-thru, even if you're a pedestrian, because that's the only ATM at the bank location, or they've closed the bank lobby early.
Saying "Albany" when you're not really talking about Albany
This happens all the time in the media, in large part because of politicians. Someone's upset about something related to the state and they say, "Tell the people in Albany that (insert issue)" or "Albany is the problem..." Of course, they're referring to the state government (or some aspect of it), but it irks me that the name of the city is constantly getting smeared by this phrasing. And on top of that, it's just sloppy and contributes to a generalized, unproductive antagonism toward government. Got a problem with something the state or the legislature is doing? Totally understandable. But be specific. Is it Andrew Cuomo? Is it a particular agency? Is it a specific legislator? Name names. Leave Albany out of it.
Festivus pole photo: Flickr user M. Keefe (CC BY 2.0)
Hi there. Comments have been closed for this item. Still have something to say? Contact us.