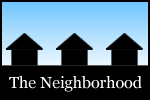 Among the topics in this most recent spin around the Capital Region's online neighborhood: making something nice happen, rebirth, finding a babysitter, OKCupid, hiking into the clouds, the paste fortune, quality and expectations, lost foods, brunch at Zest, head counts, a vegan hot dog, an entire head, talking ice cream, and Krampus.

Chuck needed something nice to happen -- so he did something nice for someone else.
Amy reflected on Christmas and time and rebirth.
Observe as Stephanie holds a master class in how to search for a new babysitter.
Silvia braved the wilderness of OKCupid.
Jen went for a winter solstice hike in the Adirondacks.
Carl admired the Albert V. Bensen Residence on State Street in Albany -- and recalled the paste fortune that helped pay for it.
Daniel tumlbed some ideas about restaurant quality and customer expectations.
J+R commemorated some local food spots that are closing.
Ashley had a seat at the communal brunch table at Zest Catering in Ballston Spa.
Dominic shared some recent examples of why it's a good idea to submit an accurate head count with your restaurant reservation.
Randal tried the vegan hot dog at The Beer Belly.
Steve was served an entire head on a plate.
Jerry's Italian comfort foods class is returning.
Mr. Dave was joyed by talking Stewart's ice cream.
And we're guessing Rob is fun at an office Christmas party. Heh.

Hi there. Comments have been closed for this item. Still have something to say? Contact us.