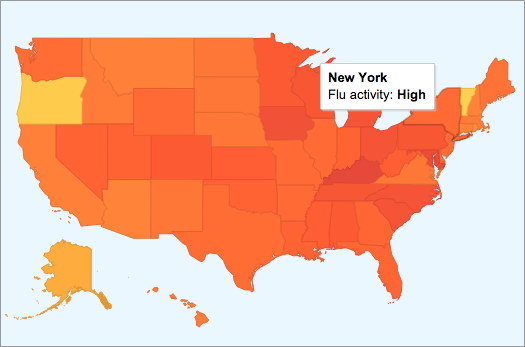 Apparently on the list of New Year's resolutions for influenza: Be more active.
Public health surveillance reports are pointing to the flu being on the upswing in this area over the last week or two. The latest report from the state Department of Health (week ending December 27) has the flu pegged as "widespread" in the state, with 54 counties reporting cases. And Google Flu Trends has detected a similar upswing in the state, based on more recent data. (Flu Trends is also seeing an upswing for the Albany area in its experimental metro monitoring.)
In early December the CDC was projecting that this could be a potentially "severe" flu season, in part because one of the main flu virus variants in circulation appears to have changed enough to blunt the effectiveness of this year's flu shot. (The shot changes year to year in an attempt to provide protection against the strains forecasted to be in circulation -- sometimes the forecast misses, sometimes the virus changes. The flu is kind of like weather in that sense.)
So... while it would have been better to get a flu shot a month or so ago, it's not too late. And even if the jab is offering less-than-expected protection, it's still better than going without. It's become increasingly easy to get a flu shot -- many of the chain pharmacies now offer them in store, and many health plans cover them.
And, of course, there's also covering your mouth when you cough (elbow!) and staying home (if possible) when you're sick. But you knew that.
image: Google Flu Trends
Hi there. Comments have been closed for this item. Still have something to say? Contact us.